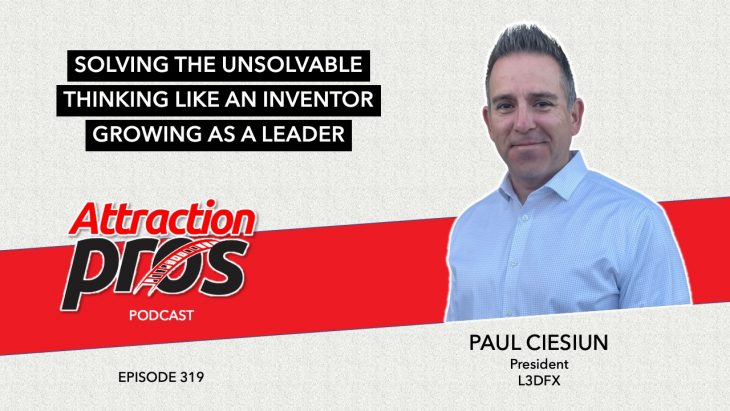 Episode 319: Paul Ciesiun talks about solving the unsolvable, thinking like an inventor, and growing as a leader
Podcast: Play in new window | Download
Subscribe: Android | RSS | More

Calling all thrill makers, fun creators, and AttractionPros! Get ready for the ride of a lifetime at IAAPA Expo 2023 – the global attractions industry's premier event. Join us in Orlando, November 13-17, for a week of learning, networking, and exploring trends and new technologies. Discover innovative solutions for growth that will supercharge your business and enhance your career. Register by November 10th at iaapa.org/iaapaexpo and save up to 30% and get an additional $10 off with code apros.
Paul Ciesiun is the President of L3DFX, an award-winning creative studio specializing in the design and manufacturing of themed elements and immersive environments. Getting his start in the Air Force, Paul found a passion for inventing and problem-solving at a young age. During his college years, Paul says he used that passion to help redefine the paintball industry, filing 19 patents and developing water-based film to replace typical petroleum processes for manufacturing paintballs. After deciding to theme his own paintball park, Paul took his talents to the amusement industry where he now serves as the President of L3DFX, helping deliver thousands of projects to take themed entertainment to the next level. In this interview, Paul talks about solving the unsolvable, thinking like an inventor, and growing as a leader. 
Solving the Unsolvable
"If you tell me I can't do it, that's my biggest motivation."
When it comes to addressing problems, Paul asserts that the problem-solving process remains consistent. Throughout his career, Paul has never encountered problems that are fundamentally unsolvable. It's all about approaching these issues from a fresh and unique perspective, coupled with a dedicated effort to gain a deep understanding of the problem at hand, as it's true that any challenge can be overcome.
Paul's career has seen him tackling a diverse range of challenges, from reimagining the fundamental properties of paintballs to devising a UV system for cleaning keypads during the height of the COVID-19 pandemic. His approach underscores the importance of listening to the world around you and finding what you think needs to be changed, as the only unsolvable problem is the one that isn't found. 
Thinking like an inventor
"Everything around you is a solution to a problem."
When it comes to thinking like an inventor, Paul mentions the paramount importance of examining every problem from multiple angles, from straight on to upside down. To authentically think like an inventor, one must go beyond traditional perspectives and approaches, striving to find innovative and unconventional solutions.
Even with an inventive mindset, many principles are applicable to other lines of work. Inventors even approach patent filing creatively, drafting their ideas in a way that distinguishes them from previously filed patents. This process necessitates originality and teamwork, both of which are key elements in becoming a leader.
Growing as a Leader
"It's difficult to lead without knowing how people perceive you."
Paul's path to leadership was sculpted by the initial challenges, and he reminisces about his early days as an immature leader. During this time, he primarily focused on achieving results rather than nurturing a cohesive team that could collectively take the necessary steps to attain those results. By building a team that feels supported and knows that they can win, Paul has changed his perception and helped create a healthy and prosperous environment.
Paul emphasizes that to become a great leader, it's essential to self-evaluate at the end of each day. Ask yourself the hard questions on "Am I helping my team win?", "What could I have done for this individual?" and "What should I have done differently?" All of these questions provide valuable insights that can be integrated into one's leadership approach.
To learn more about L3DFX, click here. To connect with Paul, connect with him on LinkedIn, or send him an email at paul@L3DFX.com
This podcast wouldn't be possible without the incredible work of our faaaaaantastic team:
Scheduling and correspondence by Kristen Karaliunas
A/V editing by Abby Giganan
Summary written by Mason Nichols