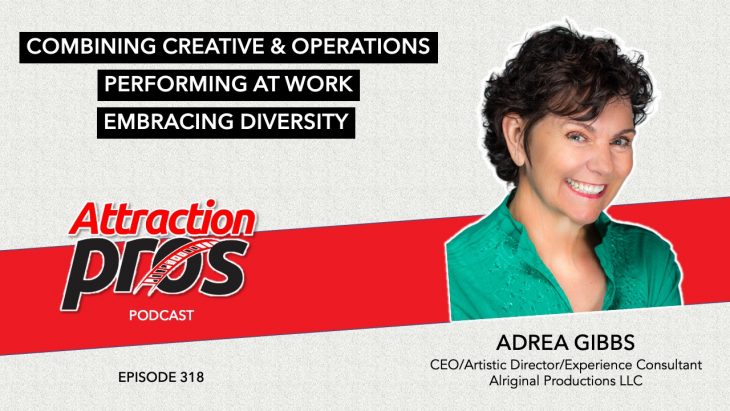 Episode 318: Adrea Gibbs talks about combining creative with operations, performing at work, and embracing diversity
Podcast: Play in new window | Download
Subscribe: Android | RSS | More

Calling all thrill makers, fun creators, and AttractionPros! Get ready for the ride of a lifetime at IAAPA Expo 2023 – the global attractions industry's premier event. Join us in Orlando, November 13-17, for a week of learning, networking, and exploring trends and new technologies. Discover innovative solutions for growth that will supercharge your business and enhance your career. Register by November 10th at iaapa.org/iaapaexpo and save up to 30% and get an additional $10 off with code apros.
Adrea Gibbs is the CEO, Artistic Director, and Experience Consultant of Alriginal Productions, where she is hyperfocused on behavioral training, hiring, and operational excellence.  Adrea says that she combines her creative side with her operational side to elevate guest and employee experience, using the human element to help people understand biases, mental health, and multi-level learning opportunities.  In this interview, Adrea talks about combining creative with operations, performing at work, and embracing diversity.
Combining creative with operations
"We're continuing to innovate the artistic side without losing integrity, but we employ things that functionally make things better for both guests and employees."
Adrea began her career in the Entertainment department at Disneyland, and after becoming proficient with the theatrical side of the business, continued her career path in other avenues, including children's fitness and construction management.  Adrea's unique lens has allowed her to gain a full overview of both sides of the same coin.
In themed entertainment, this type of viewpoint is critical because there is both an aesthetic need and a functional need.  The creative side must deliver a product that is visually appealing and outstanding, whereas it also must have the functional elements so that the operators can successfully deliver it.
Performing at work
"We don't necessarily think of ourselves as a performer in our job, but we are."
When a team member comes to work and punches in, they are simultaneously punching out the rest of their life.  This means that anything frustrating in their life, such as a disagreement with their partner, a conflict at the coffee shop, or just waking up on the wrong side of the bed, is getting punched out and left with their timecard.  At the end of the day, the team member punches out of work and takes their personal matters back.
This means that while they are at work, they are playing the role of their job function, whether it is a frontline team member, supervisor, manager, director, or executive leader.  This type of attitude allows team members to better manage everything that comes their way over the course of the day – both positively and negatively, when they recognize that they are performing a role, and get to go back to themselves at the end of the day.
Embracing diversity
"We should not be setting boundaries on anybody."
Growing up, Adrea belonged to a church that she says had an open mind and an open heart, and their youth program ensured that young members were able to see and understand religions other than her own.  Additionally, she shares the story of a family member with spina bifida that, despite physical limitations, everyone always ensured to include him in any way possible.  Adrea shares a story of a cast member at the Magic Kingdom who wanted to climb the stairs to the top of Cinderella Castle, and despite being blind, said that the view was "the most beautiful view" he had ever seen.
Adrea stresses that people set their own boundaries based on their capabilities, and we should not judge people based on their container, but based on what's inside.  When it comes to integrating this mindset into an organizational culture, Adrea says that training and education are critical.  The training cannot be a one-and-done exercise, but must continually be woven into the employee experience so that the concepts continually resonate throughout the team.
To connect with Adrea, connect with her on LinkedIn, or send her an email at  an.alriginal@gmail.com.
This podcast wouldn't be possible without the incredible work of our faaaaaantastic team:
Scheduling and correspondence by Kristen Karaliunas
A/V editing by Abby Giganan