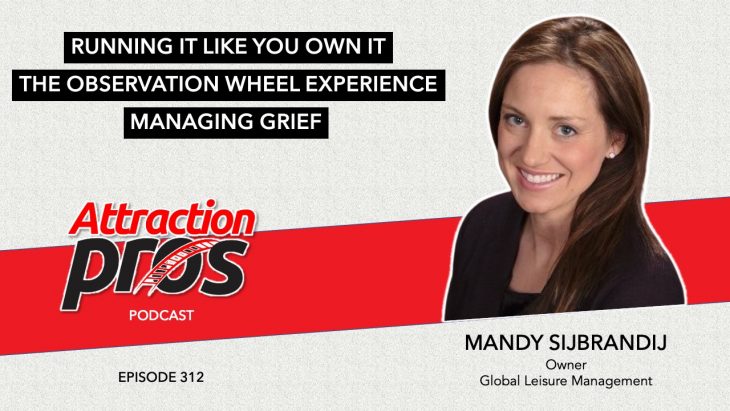 Episode 312: Mandy Sijbrandij talks about running it like you own it, the observation wheel experience and managing grief
Podcast: Play in new window | Download
Subscribe: Android | RSS | More
Mandy Sijbrandij is the Owner of Global Leisure Management (GLM), a third-party management company for attractions.  GLM oversees the full operation of the business, including hiring employees, managing them, putting policies in place, and running the day-to-day operations, maintenance, marketing, along with accounting services.  This allows the owner to turn over the daily operations to a trusted operator.  Most notably, GLM operates SkyWheel Attractions, which can be found in Panama City Beach, FL, and Myrtle Beach, SC.  During GLM's early days, however, Mandy lost her husband, and she opens up with her personal story of loss and grief, while still moving forward to launch the business.  In this interview, Mandy talks about running it like you own it, the observation wheel experience, and managing grief.
Running it like you own it
"If I'm in a position to fix something or make something better – and every employee is – then I want to do that, and I want everybody on the team to have that same mindset."
When someone owns a business like an attraction, they have both a financial investment in the property and an emotional investment, which requires an operator that will treat the property the same as the owner would.  Mandy shares that this requires frequent communication between GLM and the operator, setting proper terms of the agreement, and then running it as if they own it themselves.
The mindset of running it like you own it extends beyond the management company; it is also how leaders show up to work every day when they talk the talk and walk the walk, as well as with frontline employees.  Mandy stresses the importance of sharing the successes of the business with the team so they can see how they can own their own jobs within the influence that they have.
The observation wheel experience
"You can use the wheel as the biggest and best billboard."
An observation wheel is a Ferris wheel, but a Ferris wheel is not an observation wheel.  An observation wheel is a modern take on the carnival-style Ferris wheel, though the cabins are often larger and can house more guests, there is usually heating and air conditioning, and perks and amenities that a Ferris wheel does not offer.  Not only are they often built in scenic locations that offer guests a spectacular view, but they are also beautiful pieces of architecture that complement any skyline.
Observation wheels can be marketed as an enhanced experience compared to a traditional Ferris wheel often because they are taller, offering sweeping views of the area around them, and can make any location more iconic by intriguing nearby visitors.  It's also an experience that can be done with a group or a family that might not ride a roller coaster together, yet on an observation wheel there are nearly no limitations to riding.
Managing grief
"We're never really talking about grief, and we need to."
In late 2022, while Mandy and her husband Eward were in the beginning stages of forming GLM, Mandy suffered a tremendous personal loss when Eward suddenly passed away.  Mandy expressed that her previous employer, Koch Development, always treated her like family and instinctively pushed back the transition of SkyWheel's management to the newly created company.  This allowed her to focus on her family and not on work or the logistics of GLM's launch, which was pushed until mid-February.
This event has led Mandy to reflect on how employers manage grief within their own employees and even their guests.  What does your bereavement policy look like?  Does it show empathy toward the employee's situation, or is it focused on the needs of the business?  How flexible are your cancellation policies if a guest has a death in the family?  Do you train employees on how to treat guests going through difficult life situations?  You may never know what someone is going through at any time.
To learn more about Global Leisure Management, visit www.glmattractions.com. To reach out to Mandy directly, connect with her on LinkedIn.
By the way, if you visit Paradise Pier in Biloxi, you can meet Eward the Dutch Duck, inspired by Mandy's husband.
This podcast wouldn't be possible without the incredible work of our amazing team:
Scheduling and correspondence by Kristen Karaliunas
To connect with AttractionPros: