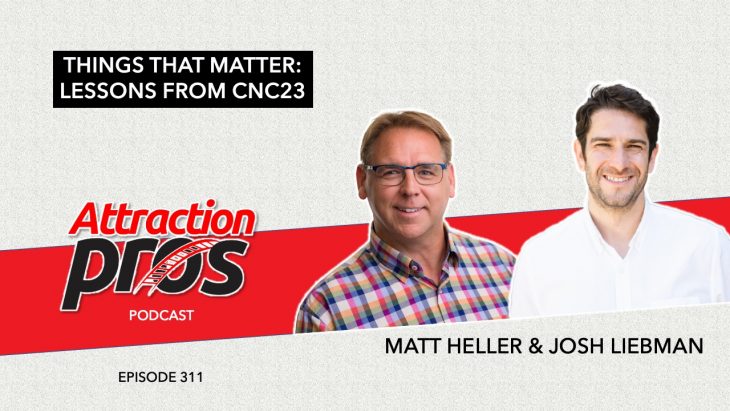 Episode 311: Matt and Josh talk about what matters – Lessons from CNC23
Podcast: Play in new window | Download
Subscribe: Android | RSS | More
Coaster Nerd Con, or CNC23, took place from July 6-14, 2023.  This is the annual trek where Matt and two friends take an epic journey to ride roller coasters, debate the best park food and experience the best the industry has to offer. This year, Josh got to join them at their first park, Six Flags Great America. From there, the trio went to Lost Island Theme Park, Adventureland, Worlds of Fun, Silver Dollar City, Frontier City, Six Flags Over Texas, SeaWorld San Antonio, and Six Flags Fiesta Texas. As usual, there were lessons learned along the way. In this episode, Matt and Josh talk about the "things that matter" to the park-going experience. 
Enthusiasm matters
For those who know Jeffrey Siebert, Park President at Six Flags Fiesta Texas, you know that he has enthusiasm to spare. In fact, he calls himself an "enthusiast who gets to run a theme park," and that enthusiasm shows from the look of the park (amazing), the interactions with the team (hospitable and friendly), and the fact that everything was open. His energy is infectious, and that has an incredibly positive impact on the entire operation. 
We also ran into team members at other parks, such as Lost Island, who leveled up their own enthusiasm. The gentleman who greeted us for the dark ride and the chef who checked on us as we ate lunch both positively enhanced our experience because of their enthusiasm and positive demeanor. 
Recognition matters
There are so many ways to recognize a team member and so many great accomplishments to recognize them for! As we learned from Tony and Gina Claassen, there is something that Silver Dollar City does that combines recognition with a way to immortalize loyal team members.
Disney has the windows on Main Street, and Silver Dollar City has customized, themed posters that are placed throughout the park that recognize team members that have been with the company for 25 years. The best part is that Gina and Tony got to help design their posters and had a choice of where to put them. Next time you're at SDC, see if you can find them!
Environment matters
The look, the feel, the emotion, the smells, the music… it all plays into the environment you are stepping into and will be the foundation of an immersive experience. Worlds of Fun has done considerable retheming and upgrades to the park, including paint and new facades. Lost Island was clean, incredibly well-themed, and paid attention to the little details that really made a difference. 
Props must also be given to the Bamboozler (Round-Up) at Worlds of Fun.  The internal paint job (which one could argue wasn't needed for the ride to function) created a visually interesting and attractive experience not just for the riders but the guests on the midway as well. 
History matters
Many rides and attractions have had lives before landing in their current home. Parks also move things all the time to accommodate expansion and new experiences. It truly enhances the experience when a park takes the time to acknowledge and document the journey that a ride has taken to get to its current home. 
A notable piece of history for Matt is the Grand Carousel at Worlds of Fun, which used to be at Geauga Lake in Aurora, OH. Geauga Lake was Matt's home park growing up, and there is a very good chance he rode it when he visited with his family. Sharing the history can develop and strengthen the emotional connection of the experience. 
Activities matters
As much as the CNC crew loves roller coasters, it was really fun to discover, observe and participate in a variety of activities that bring people together and let them have fun or challenge themselves in a non-traditional way (for a theme park).
Lost Island had a number of activities that allowed guests to challenge their minds as well as their body. Silver Dollar City staged a good 'ol fashioned water balloon fight, and Fiesta Texas has a state-of-the-art gaming center.  
For more on the CNC23 trip, look for #CNC23 on Facebook and Instagram. 
To connect with AttractionPros, visit attractionpros.com or email attractionpros@gmail.com.