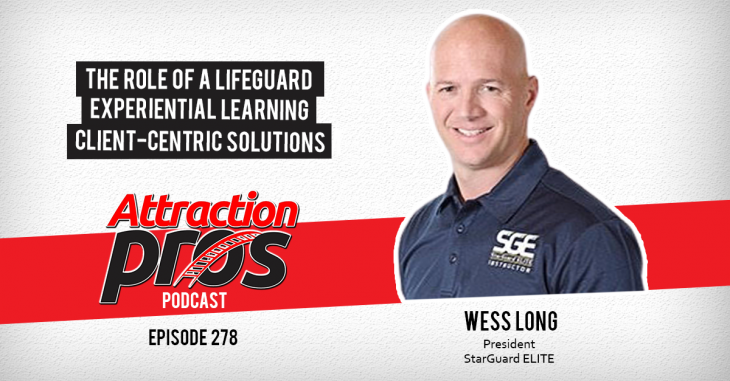 Episode 278 – Wess Long talks about the role of a lifeguard, experiential learning, and client-centric solutions
Podcast: Play in new window | Download
Subscribe: Android | RSS | More
Wess Long is the President of StarGuard ELITE, an aquatic risk prevention agency that is internationally recognized for its elite training, certification, and consulting programs serving lifeguards, management, attraction attendants, and more. Wess is passionate about the aquatics industry, having spent time in facilities all over the world. It's that experience and passion that drives him and the team at StarGuard ELITE to pursue the best in training practices for the people who are keeping our pools and waterparks safe. In this episode, Wess talks about the role of a lifeguard, experiential learning and client centric solutions.
The role of a lifeguard
"It's critical that we understand the role of a lifeguard."
If everything goes as planned, you likely won't have a lot of interaction with a lifeguard at your local pool or waterpark. That is because their job is to literally guard lives, and they do this by watching for distress in swimmers so they can identify dangerous situations long before they pose a threat to the public.
In many ways, lifeguards are first responders and are part of the medical response team and can mean the difference between life and death. Like the fire department or paramedics, their job, in the event of an emergency, is to sustain life and stabilize the situation until others arrive. It's a big responsibility that in many cases is bestowed on young adults. 
Experiential learning
"Experiential learning is not just about doing, but also talking about it."
Guarding a life is not a passive activity. Wess believes that the training that prepares someone for the role of a lifeguard should be more than just classroom learning, and even more than a hands-on experience. At StarGuard ELITE, their training program is centered around the concept of experiential learning – which like lifeguarding itself, is not a passive process.
As Wess says, it's not enough to do the activities, you must also talk about them and personalize them. What went well, what can be improved, and how did a particular guard's actions help or hinder the process?  Talking through scenarios also tends to uncover the "why" and purpose of what lifeguards do.
Client-centric solutions
"There are objectives and standards that can be the same, but the ways to get there can be very different."
Every client has the same goal – keep their guests safe. Wess and StarGuard ELITE's approach is that there are many ways to get there, taking into consideration the size and scope of the facility they are working with.
This means that there is no one-size-fits all approach. Wess and his team take time to assess the strengths and needs of each team they work with, finding an approach and process that takes into consideration budget, staffing and location. At the end of the day, SGE and their clients want the same thing – 100% safety for their teams and guests. 
To learn more about StartGuard Elite, you can visit their website.  Wess can be reached at wess.long@starguardelite.com or info@starguardleite.com.
This podcast wouldn't be possible without the work of our incredible team:
Kristen Karaliunas – Scheduling and Correspondence
Abby Giganan – Audio and Video Editing