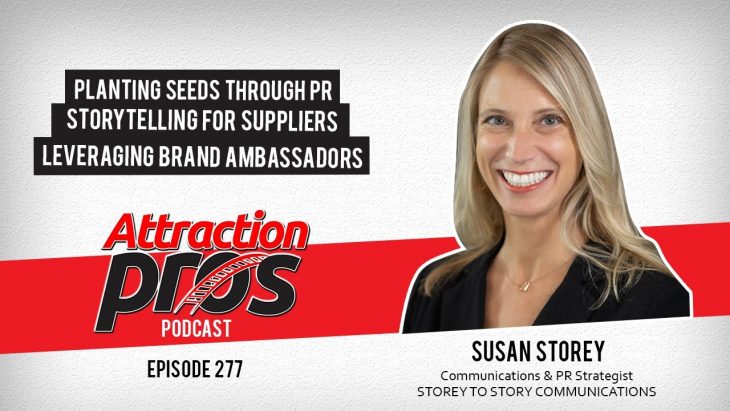 Episode 277: Susan Storey talks about planting seeds through PR, storytelling for suppliers, and leveraging ambassadors
Podcast: Play in new window | Download
Subscribe: Android | RSS | More
Susie Storey is the Communications & PR Strategist for Storey to Story Communications, a public relations firm focused on helping attractions industry suppliers amplify their stories. Susie has worked in the attractions industry her entire career, mostly in public relations, at organizations that include Disney, Six Flags, Universal, Cedar Fair, Give Kids the World, Great Wolf Lodge, SeaWorld Parks & Resorts, and IAAPA. In this interview, Susie talks about planting seeds through PR, storytelling for suppliers, and leveraging ambassadors.
Planting seeds through PR
"The places to plant your stories have changed."
The way that people consume content has evolved substantially over the years. Previously, companies would seek media recognition through traditional publishing and newspapers, or publications like Good Housekeeping and Parenting Magazine. Many of these outlets no longer exist – at least not in the same form – which has changed the way that businesses should think about getting their message out.
Susie talks about the importance of earned publicity, or publicity that you are not buying, in your PR strategy. Gone are the days of striving for millions of impressions, because we need to think about not just the amount of people we're reaching, but if we are reaching the right people. Social media, publications, and podcasts are all avenues for communication, and the way in which they are leveraged is key to their success.
Storytelling for suppliers
"Gone are the days of throwing every message to the wall and hoping they all stick."
Historically, suppliers in the attractions industry have relied on traditional marketing and communications to get the word out about their product in an attempt to reach their target demographics – the attraction's operators. However, by pulling back, there are opportunities to get creative with how the messages are broadcast and how the stories are told.
For example, when a theme park gives a roller coaster a fresh coat of paint, the business relationship is between the paint company and the park operator, but the interest extends into the enthusiast community, where the appeal of the story can be magnified. Suppliers are not necessarily trying to reach guests, which include families and parents, but by doing so they can turn their work into human interest stories.
Leveraging ambassadors
"If you're going through a tough time as a company, you want your ambassadors there to support you."
Guests can be citizen journalists, and your employees can and should be ambassadors of your business. From an employee standpoint, it's a challenge to create a policy on whether they can post on behalf of the organization. Susie's recommendation is to have an evolving policy that can set a framework for what employees can share and what they cannot, recognizing that employees will post online regardless.
For guests, building advocacy in the guest experience is also a form of planting seeds that you won't know when you'll need to harvest. When a business experiences a crisis, it is often the most loyal guests who come to the company's defense and set the record straight. This includes building relationships with enthusiast organizations, bloggers, and other groups that carry influence over your reputation.
When asked about advice for aspiring PR professionals, Susie says that people need to be able to write and communicate, as well as wear multiple hats in their roles. PR is more than party planning!
To reach Susie, you can connect with her on LinkedIn, or reach out directly at storeytostory@gmail.com.
This podcast wouldn't be possible without the incredible work of our amazing team:
Video editing by Abigail Giganan
To connect with AttractionPros: attractionpros@gmail.com