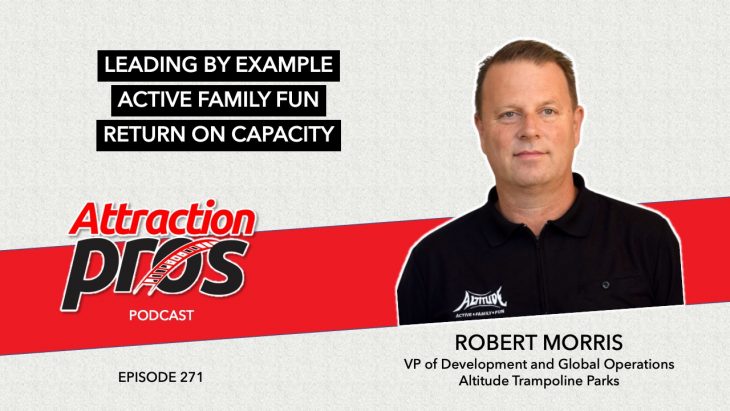 Episode 271: Robert Morris talks about leading by example, active family fun, and return on capacity
Podcast: Play in new window | Download
Subscribe: Android | RSS | More
Robert Morris is the Vice President of Development and Global Operations at Altitude Trampoline Parks, a multi-national chain of trampoline-based family entertainment centers targeted around bringing fun to everyone. Prior to joining Altitude in late 2020, Robert gained a wealth of experience in the restaurant industry, which transitioned seamlessly into entertainment and then into attractions. Today, Altitude has nearly 90 locations in multiple countries and will soon be celebrating its 10th anniversary. In this interview, Robert teaches us about leading by example, active family fun, and return on capacity.
Leading by Example
"You have to value your employees, or they won't value you or your guests."\
As a leader, Robert preaches that you need to know that no action is below you if it benefits the guest experience. Everything your employees do and contribute benefit the operation in important ways. Whether it's picking up trash or selling a beverage, showing your employees that you are just as willing to contribute in every way possible gives them a deeper understanding of the guest experience and assists in developing a healthier and more interactive guest environment. 
Without proper leadership, employees will begin to feel disconnected from the purpose of the company and guests will begin to notice that behavior. Robert stresses that this method of leadership is important because it teaches employees to connect with guests of all ages, and when guests feel connected, they return. 
Active Family Fun
"Kids need to socialize. They need to interact with other kids."
Robert knows that the guest experience goes beyond what a facility can provide, but rather what environment it can create. In a trampoline park with team-based games and endless opportunities for socialization, kids will find themselves making friends and having a blast beyond just doing backflips into the foam pit. 
When kids make friends, not only does it give the kid a great experience, but it also gives their parents a great time as well. Robert shares that when parents watch their kids make friends, it encourages them to become recurring customers, as parents love watching their kid socialize and have a good time. By noticing these trends, Altitude has created an interactive experience where kids can socialize with employees and have a blast with their friends while simultaneously creating a returning base of members. 
Return on Capacity
"The energy in a park becomes contagious."
It's simple, many large companies have a subscription-based service, and it's not always because it makes money. Robert says that people come places for reasons similar to why we go to the movies. The shared 'oos' and 'aahs' make guests feel connected and engaged in a similar experience. However, you can't always fill up a facility on a random Tuesday night. By introducing a subscription-based service like memberships, you can have guest retainage and begin to create return on capacity.
Additionally, Robert emphasizes the benefits of consistent attendance with memberships beyond just raising the average attendance. When members come to the facility, they will oftentimes purchase a drink or make a transaction to boost their experience. By having these memberships, you can maintain a steady income to keep the lights on and also give the guest experience a massive boost. 
To learn more about Altitude Trampoline Parks, you can visit their website here. You can also contact Robert directly at robert.morris@apphq.com.
This podcast wouldn't be possible without the incredible work of our amazing team:
Scheduling and correspondence by Kristen Karaliunas
Summary by Mason Nichols
Video editing by Abigail Giganan
To connect with AttractionPros: attractionpros@gmail.com