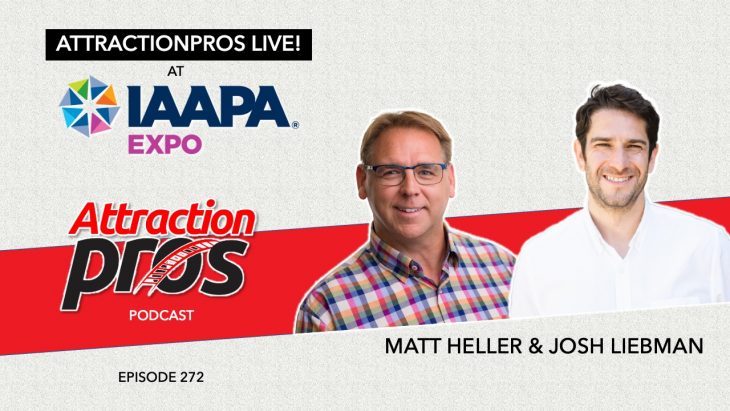 Episode 272: AttractionPros Live at IAAPA Expo 2022
Podcast: Play in new window | Download
Subscribe: Android | RSS | More
"AttractionPros LIVE!" has come back to Orlando! Each year, the International Association of Amusement Parks and Attractions (IAAPA) hosts a trade show showcasing the latest and greatest in attractions technology, operations, and everything in between. Hosted at the Orange County Convention Center, the largest event in attractions and themed entertainment brings everyone together to share ideas, products, and much more. Once again, AttractionPros was given the opportunity to host a session to answer questions and gain insight from attendees – all of which is recorded for the podcast. In this episode, our guests share their struggles, experiences, and ideas to help each other and develop new strategies to take on the upcoming year.
Developing leaders to help reduce turnover
Leaders impact turnover. Since leaders are so involved in the employee experience, it's no surprise that they have a massive effect on turnover. Matt emphasizes that developing leaders can not be a one time situation, and that it is rather a journey where you learn new things and lessons as you move forward. Josh shared that employees should be an investment, and that when you invest in your employees and work to improve their experience, it can make better leaders and also drastically improve the employee experience.
Rob Lara of Zoo Miami shared that he recently became the new leader of a team that had already been established. By implementing a system of 1 on 1s throughout his operation, it has helped his team understand each other and improved the employee experience.
More Frequent and More Timely Communication Between Separate Departments
Karen Burns of the Virginia Aquarium & Marine Science Center shared that they have implemented mentorship programs where department leaders take on positions at other departments as well as an employee shadowing program to help build morale and buy-in by encouraging team members to explore other departments and further understand the operation.
However, it can be a challenge getting employees to partake in these great ideas. To combat this, creating incentives can be used to encourage employees. By creating a system where voices can be heard and people can earn unique benefits by partaking in your system, your idea can gain much more traction.
How to Keep Guests Engaged With Your Brand
Technology is always changing, so to keep guests engaged, taking an approach in the metaverse may be the path of the future. Instead of winning a stuffed animal, maybe instead a guest could win an NFT profile picture to show off their time at your experience and compliment the in-person experience.
To keep guests engaged, companies have to adapt to the ever-changing climate of the internet and social media. By thinking out 5 to 10 years from now, it can help to create an action plan and begin to develop some ideas on keeping your guests engaged outside of your experience.
Burnout Due to Staffing Challenges and Turnover / Employee Appreciation
Cole Sosnowski from Georgia Tech shared that on the academic end, after being burnt out by school and assignments, we can have little time and energy to do the things we care about. It's a challenge to improve after school activities without adding onto the already taxing workload.
Megan from Universal Parks and Resorts shared that burnout can be tough when you're not only feeling tired, but also undervalued. It's super easy to give recognition and help employees when they're experiencing burnout.
Purpose gives people a reason to push through burnout, and giving employees purpose can really help push them through tough times. When you lose purpose, that's when employees start to question their situation. Physically, we can do more than we think we can, but when we lose purpose in our mind, that's when we stop.
Rob Lara of Zoo Miami shared that encouragement needs to be authentic. People need more than a paycheck and should be treated well in order to avoid burnout and contribute to a healthy work culture.
Karen Burns of the Virginia Aquarium & Marine Science Center shared that to avoid burnout, you have to know your staff. By understanding their wants and desires, you can cater to that and help avoid burnout by making them feel appreciated.
Dino Fazio of Morey's Piers shared that being specific in your appreciation is important as it contributes to the personability of the appreciation. Rather than saying "Great Job," it should be more about what exactly they did and what positive effect it had.
Specific Recognition Within the Guest Experience
Attractions are a unique experience for everyone, and by training employees to not give everyone the same 'cookie cutter' experience, it can revolutionize someone's experience and make the entire trip more personable and memorable.
Brandon Willey with Hownd shared that the recognition of humanity is critical for both employees and for the guest. By recognizing people as an individual person with their own passions and interests, it can create a moment for a guest/employee and let them recognize that they're not just a cog in the machine.
Learning New Skills and Reaching Outside Your Comfort Zone
Frank Hamedl of Fun Spot America shared the importance of getting comfortable with being uncomfortable. Taking leaps of faith into positions where you might find yourself out of your comfort zone will help you learn and become a more well-rounded professional.
Brandon Willey with Hownd shared that taking small little steps into your goal can be a good way to combat the natural uncomfort that comes with taking big leaps. For example, taking steps like buying a karaoke machine and performing in front of increasing sizes of crowds can help someone ease into a situation and follow their passion, even if there are obstacles like stage fright.
Jamie Flaherty with Xola shared that sometimes you don't have to step outside of your comfort zone when it comes to networking. Within the attractions industry, we're surrounded by businesses that share similar interests. By sticking to what you know, you can help break the ice and open the doors to a great conversation.
How to be Confident in Your Abilities While Still Being Inclusive and Accepting of Others Ideas and Contributions
If you're passionate and proficient at something, it's important to recognize that you'll always want to become more passionate and educated on this topic. There's always more to learn, and you can become even more confident in your abilities by keeping an open mind.
Rob Lara of Zoo Miami shared that sometimes being confident means giving a piece of that confidence to others. As a leader, sometimes it's best to let your team give their attempt at tackling the problem rather than immediately taking it into your own hands.
Brandon Willey with Hownd shared that everyone needs a coach in order to stay as good as possible. Every great team has a coach, showing that there is always something to learn and develop even if you are the best at something.
This podcast wouldn't be possible without the incredible work of our amazing team:
Summary by Mason Nichols
Video editing by Abigail Giganan
To connect with AttractionPros: attractionpros@gmail.com