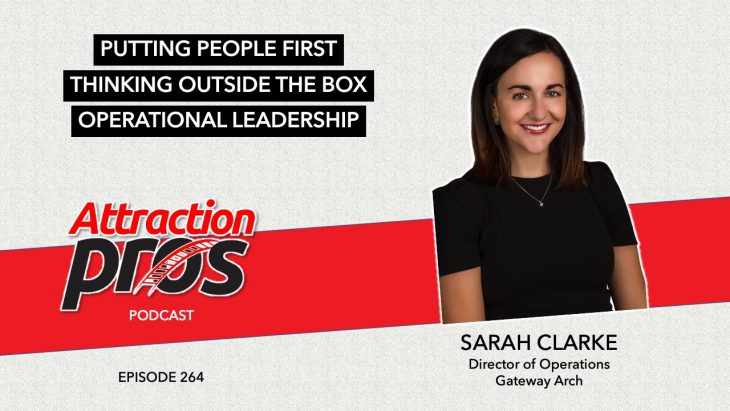 Episode 264 – Sarah Clarke talks about putting your people first, thinking outside the box, and operational leadership
Sarah Clarke is the Director of Operations at the Gateway Arch in St. Louis, MO. As a native to St. Louis, Sarah holds a degree in recreation management, and throughout her career she has touched nearly every department of an operation. The lessons learned from seeing the big picture of the business have proved valuable for Sarah at the Gateway Arch, where she has worked since 2013, and was pivotal to the arch's renovation project and pandemic reopening strategy. In this interview, Sarah talks about putting people first, thinking outside the box, and operational leadership.
Putting People First
"We need to put people first."
Whether it's guests or employees, it's important to remember that everyone is a person. Humanity applies to all situations, spanning from employees dealing with personal issues to guests feeling nervous about traveling 630 feet into the sky.
By prioritizing people and their humanity, the guest and employee experience is improved by creating personal experiences and making positive experiences out of any kind of negative situation.
Thinking Outside the Box
"It's okay doing something a completely different way."
In the midst of a multi-million dollar construction project spanning 5 years in length, the Gateway Arch team had to find a way to keep their facility open while maintaining a great guest experience. In a situation where the only constant is change, thinking of ideas beyond the standard approach proved beneficial, as they were only closed for a few months during the entire renovation.
It's okay to approach things in a unique, fresh way. Sometimes, it's even best to ignore the saying "if it ain't broke, don't fix it". By thinking of new ideas and innovating beyond the standard, the guest and employee experience is enhanced and your attraction can vastly improve.
Operational Leadership
"Bring positive energy so that when they get on the floor, we've been modeling that type of experience."
Operations are what keep attractions running, and having a strong sense of leadership with team members is important. By modeling behavior you would want your front-line team members to have, you create a mark on their behavior and indirectly create great guest experiences.
Coordination and communication are also challenges in operational leadership. Many different locations have several companies involved that manage unique things within a facility, such as food and beverage or merchandise. By creating an open stream of communication and allowing for information to flow freely, barriers are broken down and your experience will experience fewer roadblocks.
To learn more about the Gateway Arch, you can visit their website here. To connect with Sarah, you can find her on LinkedIn.
This podcast wouldn't be possible without the incredible work of our amazing team:
Scheduling and correspondence by Kristen Karaliunas
Summary by Mason Nichols
To connect with AttractionPros: attractionpros@gmail.com
---
For audio only, click here:
Podcast: Play in new window | Download