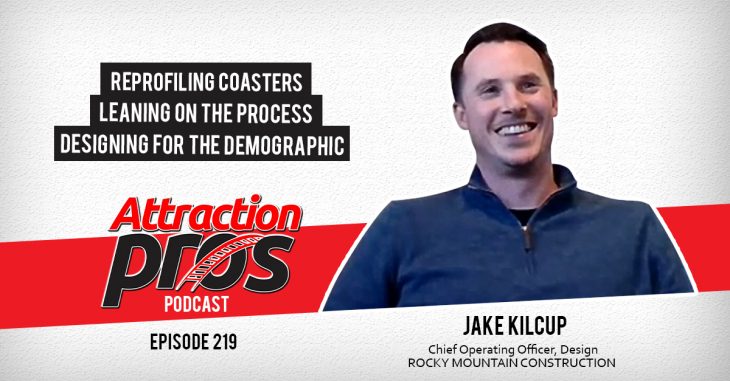 Episode 219: Jake Kilcup talks about reprofiling coasters, leaning on the process, and designing for the demographic
Jake Kilcup is the COO of Rocky Mountain Construction. RMC is a fabricator and manufacturer of amusement rides and roller coasters. The company, based in Hayden, Idaho, USA, has become synonymous with the transformation of old wooden roller coasters into new hybrid attractions. In this episode, Jake tells about how he got started with RMC and what it's been like growing the company over the last 12 years.
Reprofiling coasters
"We're trying to capture as much of that adrenaline rush as we can while still eliminating the risk."
Jake is very open about the high profile reprofiling projects RMC has been involved with such as New Texas Giant and Steel Vengeance. Working with great designers, they work diligently to recreate a feeling on a coaster layout that you may get when careening down a mountain or driving a dune buggy on a sand dune. Unlike fans who wait with anticipation before a ride opens, the RMC crew is knee-deep in all of the design and build details right up to opening day. Jake says that sometimes an opening day will sneak up on them, when a fan can tell you how many days and hours it will be before the scheduled opening to the public.
Leaning on the process
"Oh yeah, that's the story we sold."
When asked about the process of designing a roller coaster, Jake took us through the process from meeting with the client, to the pitch, to design, testing and opening. It's a long process, and Jake feels, based on RMC's track record, that leaning on, or trusting the process, is the key to smooth operations. There will always be changes and roadblocks throughout the journey of building a large "gravity machine" and if you understand where you want to go and how you are going to get there, you can trust the established process.
Once the ride is built, the process of seeing if what you sold to the client is actually what you built. Jake reiterates that with great design and build teams, more often than not the story you sold will be the story you deliver.
Designing for the demographic
"We make it rideable for the demographic. It's smooth, it's safe, it's fun."
Depending on the client needs or wants, RMC can design a coaster to fit the demographic the park is trying to appeal to. Some coasters will hold appeal for emerging coaster enthusiasts as well as more seasoned riders. In the case of a Steel Vengeance, for example, the intensity, height and speed will not be attractive to all riders, and that's okay. The excitement of building coasters is that you can have such a wide variety of experiences and they can all be great.
To learn more about Rocky Mountain Construction: Rocky Mountain Construction
This podcast wouldn't be possible without the incredible work of our amazing team:
Audio and video editing by Abigail Giganan
Scheduling and correspondence by Kristen Karaliunas
Social media marketing by Kate Kujawa
Branding and design by Fabiana Fonseca
Email marketing by Sam Bercik
To connect with AttractionPros: attractionpros@gmail.com
---
For audio only, click here:
Podcast: Play in new window | Download