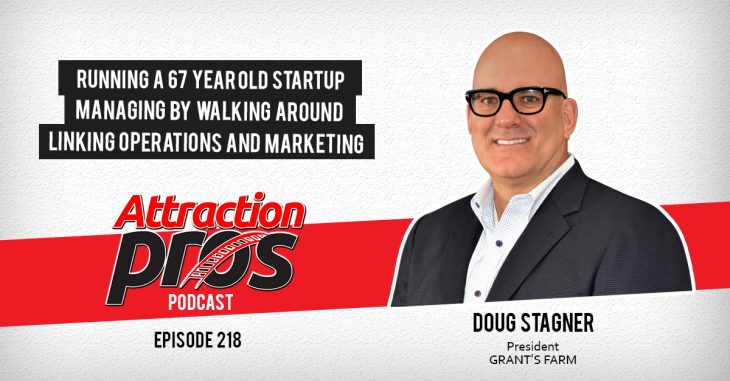 Episode 218: Doug Stagner talks about running a 67 year old startup, linking operations and marketing, and management by walking around
Doug Stagner is the President of Grant's Farm and Busch Family Estate in St. Louis, MO.  With a career that began at SeaWorld San Diego in 1984, Doug held many roles with SeaWorld Parks & Entertainment at multiple parks across the United States.  In July 2021, Doug was hired at Grant's Farm as Anheuser-Busch transitioned out of day-to-day operations.  In this interview, Doug talks about how Grant's Farm is like a 67-year old startup, the importance of linking operations and marketing, and how management by walking around can help you gain full clarity of the guest experience, as well as the employee experience.
Running a 67-year old startup
"We're a 67-year old startup."
While Anheuser-Busch does not own Grant's Farm, they have held the management contract since 1954.  Despite the transition out of operations, A-B is continuing to invest in the property to ensure its growth, as well as to preserve its legacy.  This presents a unique opportunity to create new ways that guests can learn about the property's history, as well as farm education, which serves the organization's mission.
Doug also talks about the importance of bringing guests behind the scenes, specifically as it relates to the passionate care of animals, in order to properly tell the story of animals in professional care, which transfers to sustainable farming and education for guests at Grant's Farm.  By focusing on processes and ensuring that guests are being served the best, this leads to operational changes that are intended to improve the business.
Linking operations and marketing
"If you get locked into thinking you know the answer, that can be dangerous."
When Doug oversaw the front gate at SeaWorld San Diego, he recalled that operations would occasionally be disconnected from the marketing department.  Doug shares the importance of the continual feedback loop between marketing and operations, and that he would have weekly meetings with Scott Rose, who oversaw advertising at the time.  To avoid a circumstance where you overpromise and underdeliver, marketing and operations should regularly be communicating.  However, if you underpromise too much, you may have the ability to overdeliver, but it may negatively impact the business, because under promising can set too low of an expectation.
Doug says that silos must be broken down, and that there are shared successes and shared failures.  The disconnect between the two departments is often due to individuals looking to achieve their own professional goals, without realizing that it is to the detriment of other elements of the business.  In order to help tear down these silos and so that everyone can be successful at their job, everyone, regardless of their role, should integrate themselves in the guest experience.  This means that back of house employees should regularly see front of house operations and how their own job impacts the guest experience.
Management by walking around
"How do we make a job better or a job easier?  Ask the person who's doing it."
Part of Doug's leadership strategy includes rolling up his sleeves and leading by example.  A leader should never ask someone to do something that they themselves have not done or would not do themselves.  It's important to recognize that it's not just about being out in the field while it's busy, but also while it's slow to be able to have conversations with employees and guests alike to hear their suggestions and ideas.  Previously, Doug has hosted "Donuts with Doug" and also recently created an email box named "Ask Doug" to demonstrate open communication platforms amongst the entire team.
You don't know what you don't know, and you may be missing an opportunity if you aren't speaking with the team members who are doing the job on a daily basis.  Something that perhaps you assumed was occurring in the operation might be different when you uncover the reality of the circumstance.  Don't shy away from opportunities to learn, even if it might be information that you don't want to hear.
To learn more about Grant's Farm, visit www.grantsfarm.com.  Doug can be reached at doug.stagner@grantsfarm.com, as well as on LinkedIn.
This podcast wouldn't be possible without the incredible work of our amazing team:
Audio and video editing by Abigail Giganan
Scheduling and correspondence by Kristen Karaliunas
Social media marketing by Kate Kujawa
Branding and design by Fabiana Fonseca
Email marketing by Sam Bercik
To connect with AttractionPros: attractionpros@gmail.com
---
For audio only, click here:
Podcast: Play in new window | Download