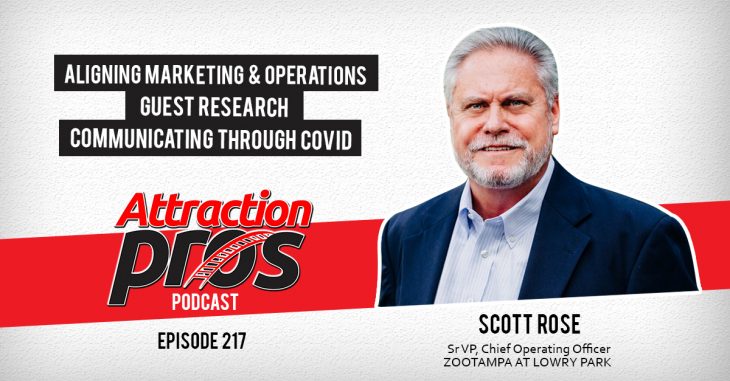 Episode 217: Scott Rose talks about aligning marketing & operations, guest research, and communicating through COVID
Scott Rose is the Senior VP/Chief Operating Officer ZooTampa at Lowry Park. Scott's career spans many decades working at animal attractions such as SeaWorld, Discovery Cove, the Florida Aquarium and now ZooTampa. Scott has also been very involved with the Florida Attractions Association where he advocates for all attractions across the state. During this conversation, Scott shares insights about working with animals, aligning the Marketing and Operations departments and the importance of guest research.
Aligning Marketing and Operations
"Sometimes I find I am arguing with myself."
Marketing and Operations teams often have different agendas and tactics to complete their tasks. As COO, Scott now oversees both departments and has to not only balance the relationships, but also the objectives and deliverables – which he says is actually fun.
As a long-time sales and marketing professional, Scott recognizes that what those teams do have a big impact on the operation. Marketing wants to sell as much as they can, but then Operations has to deliver on it. Scott believes that to bring the teams together in a positive way takes communication and an understanding of what the other group is doing, as well as having an appreciation for what both departments contribute to the success of the zoo.
Guest Research
"We've expanded the program to get input from people who normally don't comment on the guest experience."
The quote above is referring to the "Host of the Day" program at ZooTampa. Every Saturday, a member of the ZooTampa team will come to the park, dressed as a guest, and they will bring their family. This form of guest research allows the experience to be evaluated from a different viewpoint from traditional research efforts, and the results provide leadership with a robust data set upon which to make key decisions. 
This program was originally designed just for senior leaders, but recently they have started to include members of the team who aren't normally guest-facing or involved with the guest experience. This has proven to be invaluable in getting very candid feedback from people who are passionate about the zoo, but who also don't necessarily know what SHOULD be happening, so they can experience the zoo with an open mind. 
Communicating through COVID
"In the attractions industry, we all went through this together and there was no playbook."
Scott says that early on in the pandemic, the ZooTampa leadership team decided that they were going to come out of the pandemic stronger than ever, which meant working to bring back the 80% of their staff that they had to furlough when they shut down. While some employees chose other lines of work or were not comfortable coming back, every employee that was furloughed was offered re-employment and the majority of them did come back. 
According to Scott, one of the other key strategies during the pandemic was to continue to market the park, adjusting the communication for the new conditions. While other parks stopped or slowed down their advertising, ZooTampa did not take their foot off of the accelerator. Through social media and other channels, Scott said they used the shut-down period to tell their guests how they were taking care of the ZooTampa family and how they would be ready to welcome them back when it was safe to do so.
To learn more about ZooTampa: zootampa.org   
To connect with Scott directly: scott.rose@zootampa.org
This podcast wouldn't be possible without the incredible work of our amazing team:
Audio and video editing by Abigail Giganan
Scheduling and correspondence by Kristen Karaliunas
Social media marketing by Kate Kujawa
Branding and design by Fabiana Fonseca
Email marketing by Sam Bercik
To connect with AttractionPros: attractionpros@gmail.com
---
For audio only, listen here:
Podcast: Play in new window | Download