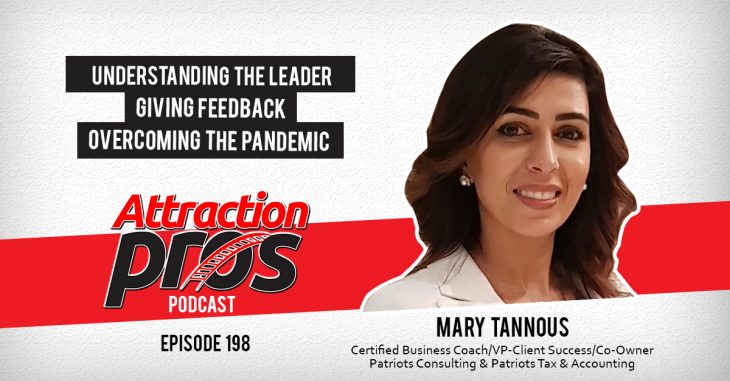 Episode 198 – Mary Tannous talks about understanding the leader, giving feedback and overcoming the pandemic
Mary Tannous calls herself the Queen of Feedback. She's been in the attractions and hospitality industry for over twenty years. During that time, she has gained expertise in many different areas of the industry, from sales and corporate strategy to technology and training. She's a world traveler, speaks multiple languages, and has worked and lived in many different countries. Mary is a certified life coach, an active member of her community, and a business owner. Mary now acts as a consultant to hospitality and attractions companies, utilizing her years of expertise to look for growth opportunities. Mary says that many of these opportunities start by focusing on delivering a good guest experience.
Mary emphasized the importance of a consistent company culture that is aligned with that company's brand and mission. She focused on the fact that this culture and the behaviors that it fosters need to be consistent from the very top of the company down to the very bottom. Having the right company culture is often the first step to fostering a great guest experience. One reason for this is that in successful companies, leaders are able to empower their employees to respond to feedback, judge the situation, and take action to remediate a negative situation. In a company where the culture isn't as well established or trusting of its employees, frontline workers might not feel that they have the authority or the support to make those judgment calls. However, if managers can lead by example and create a positive work environment where all employees feel valuable and connected to the company's overarching purpose, excellent customer experience is sure to follow.
When approaching a new case, Mary goes into the organization with the belief that most leaders have good intentions on their way to achieving good results. However, Mary is often there to point out that the company culture that the managers might want or even the culture that they think they have may not actually be a reality. As an objective third party, Mary steps in to help provide candid insight into where the company is, what it does well, and where it could improve. In other words, Mary provides critical feedback to her clients.
When giving feedback, it is important to provide it while in the mindset of wanting to help, not tear down. Mary takes every opportunity she can to provide constructive feedback, whether that be at a theme park or a hotel or a restaurant. Without feedback, how else can a company know that something is wrong that it needs to fix? When receiving feedback, it is important to listen but not take the feedback too personally. While the information being shared is an opportunity to learn and improve, it shouldn't be an excuse to dwell on a mistake. Receiving feedback, though, is easier when it comes from a place of compassion, as stated earlier. This brings us to the idea that while expectations for good guest service have grown over time, there should also be an understanding that we, as guests, need to do our part to make the guest experience as positive as possible. When working together and communicating with respect and compassion, providing feedback can be a win-win situation for the guest and the recipient of the feedback.
Feedback between a company and its guests can be incredibly challenging, but feedback between teammates can be just as difficult. Part of a leader's job is to build up and support the right team for whatever job they need to do. It is important for employees to understand their specific roles and expectations as well as have a sense for how their job contributes to the company's overall mission. This is another important aspect of empowering workers. Sometimes, though, a team member might not be a good fit for a role, or they might not have a good understanding of their responsibilities. A manager's job involves communicating with and training this employee so that they have all the tools they need to succeed. Expectations need to be clear and consistent, and if an employee is failing to meet those expectations, that information should be clearly communicated to them. It's also important to give that employee adequate time and opportunity to adapt to the feedback and improve. However, if sufficient improvement doesn't occur, then it might be time to fire that employee. It's important to remember that that doesn't necessarily mean the employee is a poor worker; they might just not be a good fit for the role they were in. The main takeaway is that an employee shouldn't learn for the first time that they aren't performing adequately at the time of termination because that doesn't give that employee adequate time to respond to the feedback.
Mary also shared a priceless piece of advice with regards to customer service: "you can't please everyone." Instead, she suggests focusing on giving the best possible experience to the guests that you can please. Especially during these challenging times of the COVID-19 pandemic, it can be challenging to keep guests satisfied as some places roll back precautionary measures and others take a slower adoption strategy to new guidance. Mary urges everyone to focus on the things that they are able to control and do the absolute best with the information available at the time.
If you'd like to connect with Mary, you can find her on LinkedIn, Instagram, and Twitter.
This podcast wouldn't be possible without the work of our amazing team:
Audio and video editing – Abigail Giganan
Complete episode summary – Paige Reiter
Scheduling and correspondence – Kristen Karaliunas
Social media marketing – Kate Kujawa
Branding and design – Fabiana Fonseca
To contact AttractionPros: attractionpros@gmail.com
---
For audio only, click here:
Podcast: Play in new window | Download