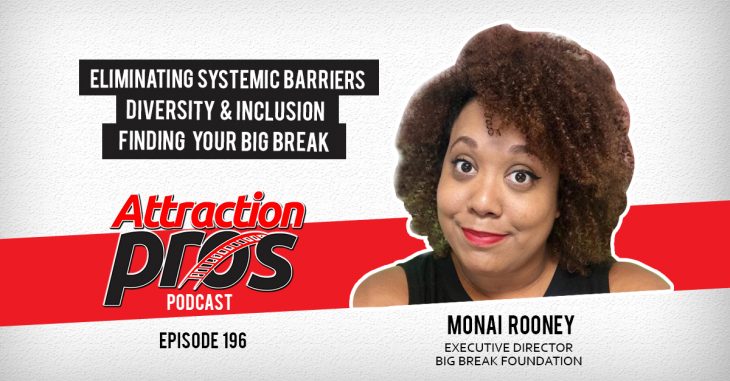 Episode 196 – Monai Rooney talks about eliminating systemic barriers, diversity & inclusion, and finding your big break
Become a Google Things To Do Beta Tester!

In March, news leaked out that Google would be launching a new program for activities and experiences called Google Things To Do. Redeam is a Google Things To Do launch partner, with a unique opportunity to bring a few qualified, early adopter operators into the beta test.

Interested in joining the Google Things To Do beta test?
Email sales@redeam.com today!
---
Monai Rooney is the Executive Director of Big Break Foundation, which was founded in 2020.  After the murder of George Floyd, a greater spotlight was put on the need to diversify the stories being highlighted, the talent being hired, and the audience being reached by themed entertainment.  Big Break Foundation's mission is to "shatter the systemic barriers within the location-based experience industry."  Monai emphasized the importance of starting to create change within your spheres of influence and local communities before expanding to more areas.  That is why Big Break Foundation is starting with companies and facilities tied to amusement parks, museums, zoos, aquariums, family entertainment centers, live shows, and other related entertainment offerings.
She describes herself as a "professional do-good-er," and she attributes this fact to her parents, who always "led with love." Monai and her brother are biracial and were the only students of color in their school in San Jose, California. Later in life, Monai would attend college, but she chose not to finish because she preferred to learn new skills on-the-job. Monai may have subconsciously fallen in love with themed entertainment during a two month long road trip that she took with her family when they moved from San Jose to Orlando, Florida when she was twelve. On the way, they passed through 30 states, visited every Six Flags in the country, and went to tons of zoos, family entertainment centers, and museums. At one point, she was getting sick of attractions and just wanted to swim in the hotel pool. However, her family insisted that these were adventures that she would never forget. Monai says that one of her first big breaks came when she started working at Give Kids the World Village. Monai describes a "big break" as an opportunity to use your skills and experiences in a way that makes you shine instead of having to fit into someone else's mold. At Give Kids the World, Monai worked a variety of roles, including guest services and attractions. Her second big break came when she was asked to lead Big Break Foundation as their Executive Director. In her current role, Monai strives to create a more equitable and diverse themed entertainment industry where more people, especially those from marginalized communities, can find their big break.
One of Big Break Foundation's current focuses is teaching an organization's leadership about the importance of Inclusion, Diversity, Equity, and Accessibility, or IDEA. One reason that Monai is focusing on educating those at the top of companies is because they are the ones making the highest-level decisions affecting their organizations. Without their support and buy-in for organization-wide change, very little can be accomplished. The information that the leaders learn will be trickled down to employees underneath them, which will lead to change throughout the organization. Monai and her team start their leadership training by explaining the overwhelming, data-driven benefits to diversifying a company and amplifying a variety of different voices. Then they dive into the psychology behind bias and how it is something that everyone has, no matter the environment in which they were raised. After thoroughly explaining the "whats" and the "whys" of the need to focus on IDEA, Monai and her team dive into the "how."
One key question that a lot of people beginning this journey have is how to measure the change and how to know when the work is done. The short answer is that a commitment to IDEA is never "done." An organization's planning, marketing, or product strategies never stay stagnant over time. Instead, they adapt to the current market and try to anticipate what lies ahead. Similarly, a company's IDEA strategy must be maintained and updated over time. That being said, there are still helpful metrics that can be looked at to know if an organization is trending in the right direction. Diverse teams and companies are more innovative, and they tell better stories with their entertainment offerings. These better stories have greater representation, which is representative of their diverse creators and also the broad audiences they aim to connect with. Furthermore, taking a look around the organization and seeing diversity is a great indicator that the initiatives are making their way back to hiring strategies. The themed entertainment industry is a very interconnected one, and often knowing people within the industry can be a key to landing a role there. While this is sometimes a great thing and can help create connections, it can also be excluding to very capable individuals who may just have had fewer opportunities to connect. Ensuring that a diverse set of candidates is being evaluated for new roles is an important part of this change.
Monai also emphasized that not every person or every company's diversity journey will be the same. This is one reason that professional outside help, such as the leadership training from Big Break Foundation, can be so helpful in understanding where you are, where you want to go, and the best path to get there. A large company with deeply ingrained processes might need more time to come up with new strategies and roll them out compared to a small startup. Additionally, the existing knowledge of leadership and employees about diversity topics and the existence of IDEA-focused policies will also make a big difference on the approach. No matter where someone is starting from, understanding the need for a commitment to inclusion, diversity, equity, and accessibility is the first step into making attractions and experiences that benefit everyone.
To get started, Monai suggests checking out the Act Now Toolkit on Big Break Foundation's website.  She also is more than happy to hear suggestions or ideas related to these topics.  You can contact her on her LinkedIn or via her e-mail.
To connect with AttractionPros: attractionpros@gmail.com
---
For audio only, click here:
Podcast: Play in new window | Download