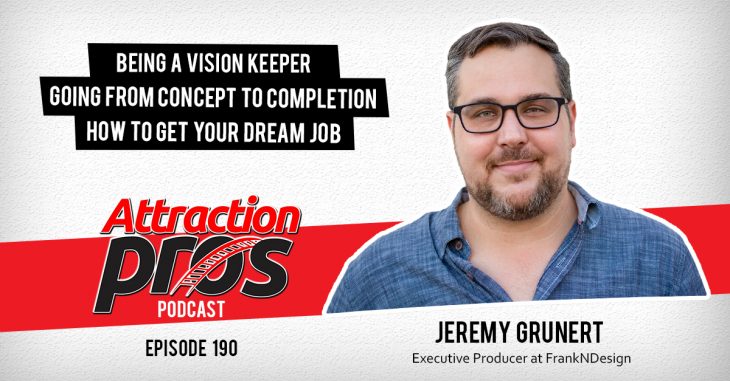 Episode 190 – Jeremy Grunert talks about being a vision keeper, going from concept to completion and how to get your dream job
Jeremy Grunert began his career in themed entertainment as a fan of theme parks.  He grew up in Florida, constantly going to the local parks, and eventually scored his first job working at Busch Gardens.  Fifteen years later, Jeremy has the dream job of many theme park fans:  designing new rides, lands, and theme parks as an Executive Producer at FrankNDesign.
After being a fan for years while growing up in Florida, Jeremy started working as a sweeper in the Egypt area of Busch Gardens Tampa Bay at the age of 15.  Over the years, he would work his way through various jobs within operations.  He became a ride operator, then a trainer of other ride operators, and then attained a leadership position in operations, all before he finished high school.  Jeremy moved to Orlando, where he attended college, and began working at Universal Orlando Resort.  There, he had the opportunity to commission and open multiple rides, work in the entertainment department, and work on multiple events, such as the Macy's parade and Halloween Horror Nights.  However, Jeremy really wanted to design these things that he had been operating for years, whether they were events, rides, lands, or whole theme parks.  In order to make that move, Jeremy utilized his network of industry professionals to find his next dream role.
When he was still in school, Jeremy volunteered at the International Association of Amusement Parks and Attractions (IAAPA) Expo in Orlando as an IAAPA Ambassador.  There, he was able to connect with Thinkwell's Cynthia Sharpe, our guest from the previous AttractionPros podcast.  (This was such a cool, unplanned illustration of how small and connected the themed entertainment industry is.)  Even to this day, Jeremy considers Cynthia one of his best mentors and one of the reasons that he was able to take his next career step into working on designing experiences at Thinkwell years after he first connected with her at IAAPA.  A few years later, Jeremy would return to Orlando to join Universal Creative and work on Hagrid's Magical Creatures Motorbike Adventure and Universal's upcoming new park, Epic Universe.  
Recently, Jeremy transitioned into a new role as an Executive Producer for FrankNDesign.  When describing his role as Executive Producer, Jeremy called himself a "vision keeper" and "team cheerleader."  He uses his project management skills to keep projects on track while also making sure that the original creative vision is not lost along the way.  When asked how this role compared with his previous few, Jeremy said that before, he had always been representing the client, such as Universal, in his work.  This time, though he is still supporting the clients, he is working more on the vendor side of things.  FrankNDesign wants to expand its streamlined attraction creation pipeline from large clients to a wider audience.  
FrankNDesign's secret to success is utilizing a highly detailed 3D model built in Revit to design rides instead of many separate 2D drawings.  This model is "smart," capable of telling you how much of a certain material you need, identifying interferences, and other useful integration features.  All of the different people collaborating on a new attraction or land, whether they are ride vendors, building architects, HVAC designers, or operations managers, can work together in this single model.  Working in 3D has the benefit of being intuitive to most people, unlike 2D drawings which may only be accessible to a small subset of the people that would benefit from seeing this previsualization of the ride and show building.  By having more people take a look at the ride in an approachable manner throughout the development, potential mistakes are more likely to be caught and better solutions are likely to be identified.  These robust, buildable models can be imported into video game engines for detailed design reviews or even used by marketing for promo videos.
Jeremy also stressed the value of these detailed 3D models in increasing the efficiency of shuttling an idea from "concept to conception."  They begin in the "blue skies" ideation phase, utilizing the knowledge of available intellectual properties (IP) and consumer insights to have a focused brainstorming session.  The concept is then developed, with an emphasis on making sure the core tenets of the chosen IP are kept throughout the process.  Then, the reality of the budget and timing come into play.  All of this is funneled into the design development process, where those 3D models get very fleshed out.  After development, the ride is built, installed, and tested before it is rolled out to the public in its grand opening.  Then, the cycle begins again with a new project.
When asked what students and young professionals should be doing to follow in his footsteps and finding their dream jobs within themed entertainment, Jeremy had plenty of advice to offer, starting with a suggestion to become an IAAPA Ambassador, like he was.  Jeremy said that being an IAAPA Ambassador truly changed his life and that, when he was at the IAAPA Expo, he felt as though he was walking down a hallway and every door was open, figuratively and metaphorically.  There were endless opportunities to learn, grow, and network.  Jeremy also suggests utilizing LinkedIn for networking.  He emphasized the fact that so many individuals within the themed entertainment industry are willing to help the next generation find their way into this exciting industry.  Additionally, Jeremy suggested looking into the dedicated themed entertainment degrees, taught by industry professionals, that exist at many universities now.  New ones are popping up each year.  Lastly, Jeremy suggested making up projects to learn and showcase relevant skills and then being sure to share those projects with your network.  He emphasized that a project doesn't have to be super fancy to show off useful skills.  One example he gave was redesigning a bedroom.  Choosing the paint color, sheets, furniture, and then tracking the project budget and schedule are a great way to demonstrate project management skills.  Find a project that excites you and use it as an opportunity to highlight your talent.
If you have follow-up questions for Jeremy, you can find him on LinkedIn, Twitter, or contact him via FrankNDesign.com.
To connect with AttractionPros: attractionpros@gmail.com
#weareallattractionpros
---
For audio only, click here:
Podcast: Play in new window | Download