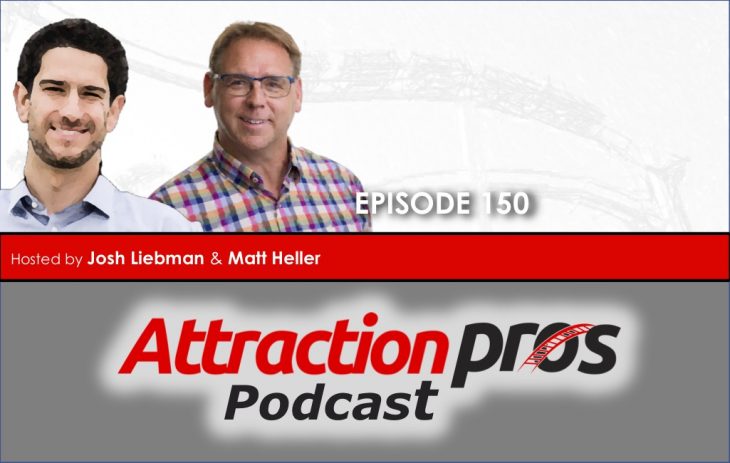 AP Podcast – Episode 150: Listeners, friends and former guests join us to celebrate the amazing attractions industry
150 weeks ago, Josh Liebman and Matt Heller started the AttractionPros Podcast because they love the attractions industry and wanted to help their fellow leaders. Listen in as they celebrate this milestone by inviting past guests and listeners to share their favorite attraction industry related memories!
In this special episode, several people joined us to share moments related to their time in the industry, whether at work or visiting as a guest. It is a true to testament to how the attractions industry has impacted all of our lives, and even during a time when our number one goal is to get back to some form of normal, we can reflect back and remind ourselves why we are doing this in the first place.

If you have a question for the mailbag or know of a leader we should highlight on the show, please drop us a line. If you have questions about anything addressed on the show, feel free to reach out anytime!
Josh – josh@backlooper.com
Matt – matt@performanceoptimist.com
Are you looking for ways to lead your team into the "new normal"? Schedule a FREE 30 minute call with Matt Heller to talk about anything you'd like… engaging employees, personal leadership struggles or your favorite ice cube recipes! Just having someone to talk to can help you maintain perspective and spur new ideas. To schedule your call, click here. When the time is right and you'd like to dig deeper, you may be interested in a coaching program, online workshop (customizable to you and your team) or a book-club style learning engagement. Learning doesn't have to stop because we are physical distancing! Click here for virtual and online learning resources!
---
For audio only, listen here:
Podcast: Play in new window | Download