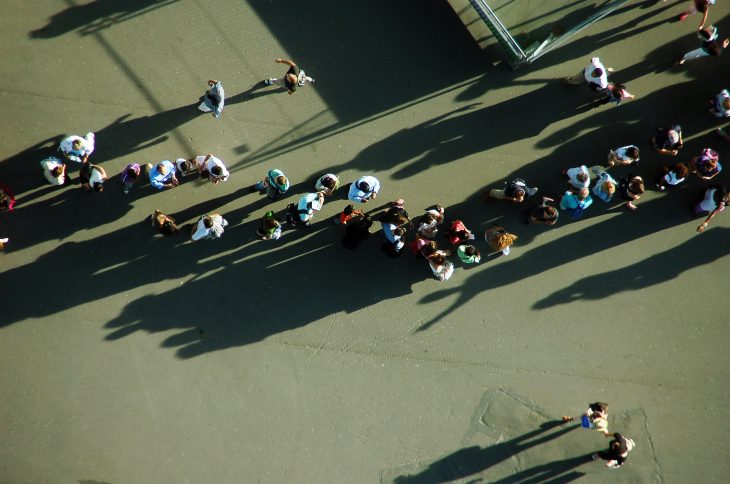 They did everything right, and it was really frustrating
Reduced capacity… check.
Hand sanitizer… check.
Masks… check.
Increased cleaning… check.
Guest experience… check?
Over the weekend I accompanied my wife on what was supposed to be a quick errand to make a return to Athleta. What we anticipated would be a quick in-and-out became a worthwhile observation of the store's new practices for physical distancing and sanitation, and how it impacts the guest experience.
Guests were appropriately spaced outside the store, and a greeter was positioned at the main entrance. The greeter was wearing a mask and holding a clipboard, monitoring the flow in and out. The inside of the store was immaculate, with employees regularly observed wiping surfaces that were high-contact areas, and sanitizer was readily available. Signage was prominently posted outside indicating that masks were required, and an A-frame showcased the new procedures for those passing by on the sidewalk.
I give Athleta credit for resuming operations with new procedures in place, specifically restricting access to the store, and making cleanliness a front-and-center visual. Your guests don't just want to know that you're cleaning, they now want to see cleanliness in action. And they did a phenomenal job.
From the standpoint of reduced capacity, physical distancing, and sanitation, they did everything right. Then why was this a frustrating experience?
The wait outside the store took approximately 20-25 minutes, with only six or seven guests in front of us. The experience inside took an additional 20 minutes to make a quick return. The configuration of the store remained unchanged, despite the altered flow. An activity like making a return should be done swiftly, especially if capacity is reduced, as to not occupy dwell time from those who would actively be shopping.
As attractions are beginning to reopen and the industry is planning their operational shift, it is important to recognize how your new procedures are going to blend with your existing operational standards. In this particular case, elements such as service and efficiency dipped compared to the pre-COVID normal. How could these guest experience standards be woven into this new style of operating?
Let's first look at the purpose of the greeter. The greeter's functional purpose was to stop guests from leisurely walking into the store, which is what we are all used to doing during "regular times," and to ensure that the queue maintained appropriate physical distancing. The greeter successfully managed the number of people inside the building at any given time, as only one guest was allowed inside as each one left. If two left, two more were allowed inside.
What if the greeter's duties also included cutting down the amount of time inside the store? By having a set of predetermined questions, she could inquire as to the needs of the next guest in line while they waited to enter. Need to make a return? No problem, head in and go straight to the left. Make sure you have the method of payment you used to buy it. If we were looking for a specific item and perhaps that item was out of stock, being informed upfront would save our time, and we wouldn't be unnecessary humans occupying limited capacity inside the store.
By anticipating guests' needs, we can make the experience better for the guest and more efficient, resulting in a shorter queue to get inside the store, shorter dwell time once inside, and therefore achieve a greater throughput. Determining the purpose of visit while guests were waiting in line, combined with giving clear direction, could have a substantial impact to the overall efficiency.
Once inside, physical distancing was properly enforced. This resulted in the queue extending into the retail area, from what would have previously been lined up at the register. However, the retail space was not reconfigured, and with clothing racks that were taller than eye-level, the length of the queue could not be determined, nor was there an intuitive direction to travel. Moving the retail space away from the registers would allow more space for queueing, as well as visibility of the queue.
When it came time to make the return, a minor issue came up that a contactless Apple Pay transaction could not be located. Of course, this friction point is not directly related to updated operational procedures, but the additional time it took added on to the increased queuing to enter the store, difficulty locating where the line began, and a lengthier queue at the register due to increased cleaning that took place between guests being served.
All this being said, Athleta hit many key points flawlessly: they reduced capacity inside the store, they enforced physical distancing, and they welcomed guests back into an environment that showcased enhanced cleanliness practices. They successfully stressed that the safety of guests and team members were of utmost priority.
Once these components are met, the guest experience standard must then be woven into these updated procedures in order to yield success long-term. When guests visit attractions, they expect to be safe, and they also expect to have some form of the enjoyable experience that they had before. A heightened anticipation of the guest experience must be implemented to fully achieve "the new normal" that we are now in.
Josh Liebman
Josh Liebman specializes in guest experience within attractions, tourism, and hospitality, including service standards, complaint resolution, and driving guest loyalty. Josh is a serial entrepreneur, podcaster, consultant, and speaker. Josh has worked for some of the top attraction operators in the world, including, but not limited to Walt Disney World, Universal Orlando, Merlin Entertainments, and Cedar Fair. Josh has been integral to the openings of multiple attractions in various leadership capacities. Additionally, Josh has consulted for many of the world's leading hospitality brands, including Ritz Carlton, Four Seasons, Waldorf Astoria, and many more. Josh is Co-Host of the AttractionPros Podcast, which brings the audience into the room with the top leaders, executives, and influencers in the attractions industry.