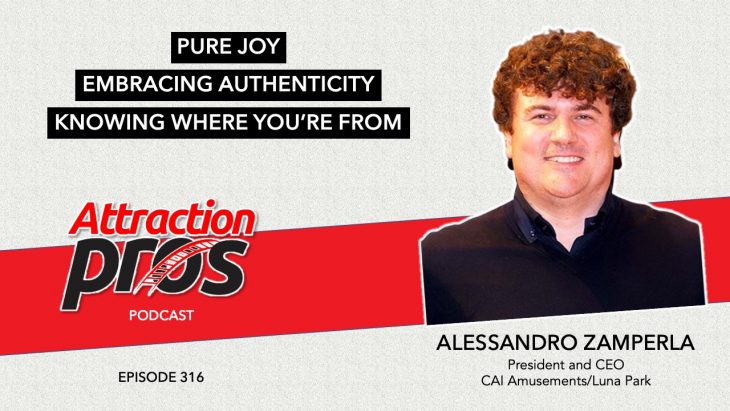 Episode 316: Alessandro Zamperla talks about pure joy, embracing authenticity, and knowing where you're from
Podcast: Play in new window | Download
Subscribe: Android | RSS | More

Calling all thrill makers, fun creators, and AttractionPros! Get ready for the ride of a lifetime at IAAPA Expo 2023 – the global attractions industry's premier event. Join us in Orlando, November 13-17, for a week of learning, networking, and exploring trends and new technologies. Discover innovative solutions for growth that will supercharge your business and enhance your career. Register by November 10th at iaapa.org/iaapaexpo and save up to 30% and get an additional $10 off with code apros.
Alessandro Zamperla is the President and CEO of Central Amusement International Inc. (CAI), which owns and operates Luna Park at Coney Island in New York City.  Alessandro refers to Coney Island as being one of the "most iconic and influential" amusement parks in the world, and CAI has the responsibility of being the custodian of a historic landmark while also ensuring that the park can serve the guests of today and in the future.  In this interview, Alessandro talks about pure joy, embracing authenticity, and knowing where you're from.
Pure joy
"Through the moments of difficulty is when you can better appreciate moments of pure joy and exhilaration."
When Alessandro first began working at Coney Island, he worked in food service, flipping Nathan's Famous Hot Dogs.  Alessandro says that this allowed him to connect with other individuals in a unique way.  More than solving hunger for his guests, he viewed it as fulfilling a purpose beyond that of the guest that extended beyond eating a hot dog.  Given the iconic status of the park, eating a Nathan's hot dog at Coney Island is an experience in and of itself.
In our industry, we are not just providing a product or a service, according to Alessandro.  We are providing the full experience of being a human being.  We often get caught up in the day-to-day details that parks and attractions need in order to operate, and every once in a while we need to step back and realize the purpose in our guests' lives that we get to fulfill for them.
Embracing authenticity
"The KPIs can never replace the passion."
Coney Island is the people's playground.  Given its history, it has developed a strong reputation, although part of Coney Island's history is less glamorous than it is today.  When asked if the park is still facing some of its previous reputation, Alessandro feels that instead of fighting the view of its past, it's important to embrace its authenticity while striving to deliver the superior experience that it offers today.  Through moments of difficulty, whether it is the park's past reputation or the challenges brought on by the pandemic, it allows you to fully appreciate the pure joy and exhilaration that the park offers today.
For example, Alessandro refers to the day that Coney Island reopened from the pandemic as one of the best days in his professional life.  The incremental anticipation that New York residents felt for the park's reopening led to such a high level of appreciation that the park was open, and guests were more forgiving for any hiccups in the guest experience.
Knowing where you're from
"It's about the heart. It's about loving what you do."
While Coney Island has a significant role in American culture, the park must maintain its relevance to new and emerging audiences.  Alessandro stresses the importance of preserving the park's history while also incorporating modern technology that guests expect when visiting amusement parks, which he refers to as "authenticity with innovation."  For example, the Cyclone, which originally opened in 1927, is still manually operated, so guests know that they are riding a part of history, while the park also strives for continuous improvement.
The sense of knowing where you're from also extends to Alessandro's role in the Zamperla family.  Alessandro speaks to the generational significance of the family's business, and the role that Coney Island plays in it.  One example that he shares includes two intertwined rides, Tony's Express and Leti's Treasure, named after Alessandro's grandparents, evoking Italian's romantic culture.  Additionally, he gives a glimpse of the food options available in the park, which includes high-quality artisanal Italian cuisine.
To learn more about Luna Park at Coney Island, visit www.lunaparknyc.com for an overview of the park and its history.  To contact Alessandro, connect with him on LinkedIn.
This podcast wouldn't be possible without the incredible work of our amazing team:
Scheduling and correspondence by Kristen Karaliunas
A/V editing by Abby Giganan