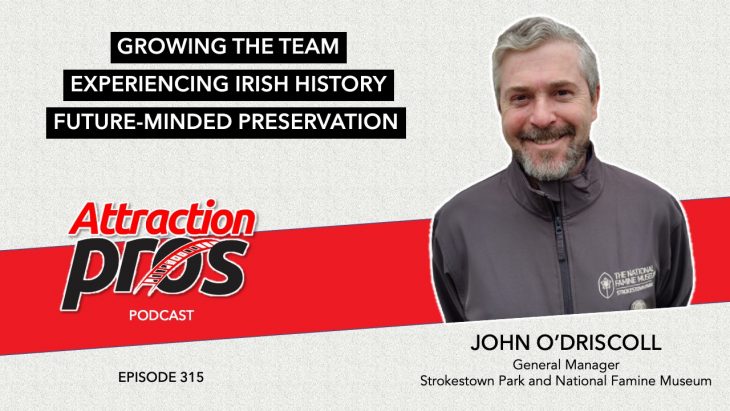 Episode 315: John O'Driscoll talks about growing the team, experiencing Irish history, and future-minded preservation
Podcast: Play in new window | Download
Subscribe: Android | RSS | More

Calling all thrill makers, fun creators, and AttractionPros! Get ready for the ride of a lifetime at IAAPA Expo 2023 – the global attractions industry's premier event. Join us in Orlando, November 13-17, for a week of learning, networking, and exploring trends and new technologies. Discover innovative solutions for growth that will supercharge your business and enhance your career. Register by November 10th at iaapa.org/iaapaexpo and save up to 30% and get an additional $10 off with code apros.
John O'Driscoll is the General Manager of Strokestown Park and The National Famine Museum in Ireland. The museum and property allow visitors to experience Irish history and learn about one of the most difficult time periods for the Irish people. John considers himself a steward of the property and hopes that many generations to come will be able to walk the grounds and form an appreciation for what the past has to teach us. In this engaging conversation, we talk about growing the team, experiencing Irish history, and future-minded preservation. 
Growing the team
"I may be General Manager, but I'm just part of the team."
John started his career as a landscaper, and still carries with him the attitude to grow, cultivate, and nurture his team. Having come up through the ranks, John understands what it takes to be successful at each level of the organization and doesn't shy away from "getting his hands dirty" to ensure the job is done right.
John is also quick to point out that even though he holds the title of General Manager, he is just one member of the team. That attitude, that you can't do it alone, seems to permeate every aspect of John's leadership philosophy, from listening to employees to ensuring they have the right tools and environment to grow. 
Experiencing Irish History
"We want people to use history to take note with what is happening today."
The Great Irish Famine is also referred to as the potato famine, as potatoes were the main source of food for many people living in Ireland in the mid to late 1800's. While we can't imagine counting on one crop or food source in 2023, the lessons learned about diversity and the way different economic classes of people fared through a national tragedy are very valid today.
It's one thing to read about such an event, it's quite another to bring it to life through stories, murals, artwork, and exhibits. The Famine Museum does just that, giving visitors a real sense of the struggle and pain the Irish people went through. Some may say it's a somewhat sad or depressing subject matter for an "attraction," but telling the real stories in an engaging way is what will stick with people long after their visit. 
Future-minded preservation
"We have to be a little bit commercial, because every penny that comes in goes back in."
It would be wonderful if the property could run solely on donations and grants, but that's just not the reality. Strokestown Park and the National Famine Museum also relies on visitors paying admission and buying food and souvenirs to help pay salaries and for the upkeep of the property. In that vein, John talks about the fact that their mindset has to be focused at least somewhat on sales and incoming revenue. 
The property recently went through a major renovation, but that doesn't mean everything was modernized. Many of the fixtures and features in Strokestown House are shown as they would have been seen and used in the late 1800's.  This sort of preservation allows the team to tell a genuine story and immerse their guests in the true feeling of the day.  
To learn more about Strokestown Park and the National Famine Museum, visit https://strokestownpark.ie/ or email info@strokestownpark.ie.  They can also be found on Facebook, Twitter and Instagram. To learn more about the walking/biking trail between Strokestown and Dublin, visit https://nationalfamineway.ie/.
This podcast wouldn't be possible without the incredible work of our amazing team:
Scheduling and correspondence by Kristen Karaliunas
A/V editing by Abby Giganan