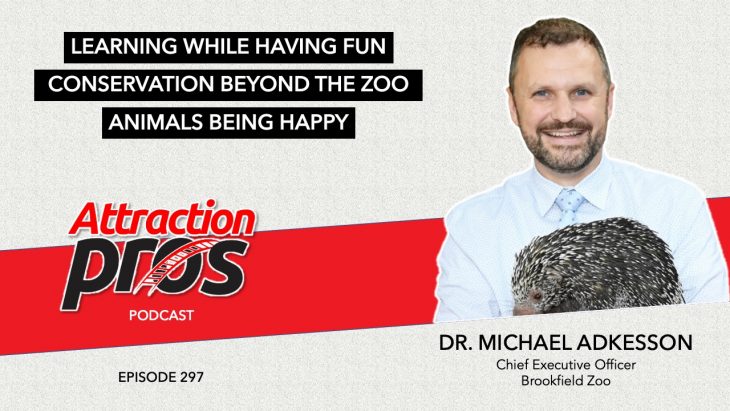 Episode 297 – Dr. Mike Adkesson talks about learning while having fun, conservation beyond the zoo and animals being happy
Podcast: Play in new window | Download
Subscribe: Android | RSS | More
Dr. Mike Adkesson is the Chief Executive Officer at the Brookfield Zoo. As a veterinarian by trade, Mike has always had a soft spot for animals, working tirelessly to create a better world for them both in nature and under human care. Mike's passion for animals began at a young age when he participated in his first animal care youth program at age 8, leading him to become a zookeeper at 15 before pursuing his doctorate in veterinary medicine. With over 15 years of experience in animal care and welfare, Mike was promoted to CEO of Brookfield Zoo in October 2021 and is now dedicated to providing guests with unforgettable experiences while also leading global conservation efforts beyond the walls of Brookfield. In this interview, Mike talks about learning while having fun, conservation beyond the zoo, and animals being happy.
Learning While Having Fun
"I passionately believe that people listen and learn more when they're having fun."
Mike emphasizes that the guest experience is paramount in ensuring that the messages of animal care and conservation are absorbed. When guests are surrounded by problems and can't enjoy the true zoo experience, we can't expect them to care about messages that go beyond the zoo. 
To tackle this problem, Mike shares that the operation needs to have excellence in every corner of the experience. The food should taste amazing, and the attractions should be engaging. However, Mike emphasizes that the most crucial element is to create intimate and one-of-a-kind animal experiences to engage guests and get them to care. Mike believes that without a great guest experience, the zoo's mission and purpose can't be fulfilled.
Conservation Beyond the Zoo
"They care more about a specific species because they saw it close-up here at the zoo."
Mike's passion for conservation and the missions supported by The Brookfield Zoo stem from his background as a veterinarian. He believes that to expand these efforts, it's crucial to make the information about them readily available and easily accessible to the public. From featuring information on the website to organizing lunch seminars for the public, the zoo endeavors to communicate the other side of what they do beyond providing exceptional care for the animals at their facility.
Zoos and aquariums worldwide have provided 1 billion dollars in funding for these conservation programs. Mike shares that by letting the guests know where their dollars are going, it can create that next level of attachment to the animals in the zoo and the missions the zoo supports. Moreover, by providing intimate interactions with certain animals, the guest experience can be elevated to a call for action, inspiring them to support conservation efforts beyond their visit to the zoo.
Animals Being Happy
"Our animals receive better care than billions of people around the world."
In the past, Zoos haven't been nearly as caring and appreciative of their animals as they are now. Mike shares that it's important to change the narrative and discuss the changes that have been made over the past 30 years to bring significant improvement to the lives of these animals, and show just how important that care is.
Many guests don't understand indicators of certain animals being happy, and can actually misunderstand those indicators. To combat this, Mike provides guests with scientific evidence and measured data to not only let the guest know that the animal is happy, but prove it. Mike emphasizes that by having open, tough conversations, guests will ultimately walk out of the experience much more educated. 
To connect with Mike, you can find him on LinkedIn. To learn more about The Brookfield Zoo, you can find their website here.
This podcast wouldn't be possible without the incredible work of our amazing team:
Scheduling and correspondence by Kristen Karaliunas
Summary by Mason Nichols
Video editing by Abigail Giganan
To connect with AttractionPros: attractionpros@gmail.com