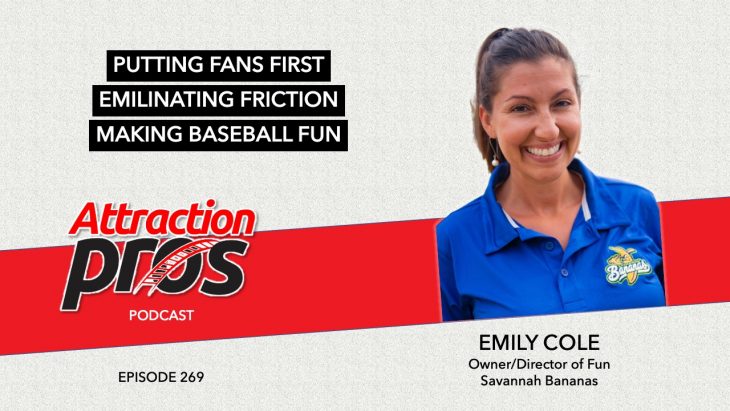 Episode 269 – Emily Cole talks about putting fans first, eliminating friction and making baseball fun
Podcast: Play in new window | Download
Subscribe: Android | RSS | More
Emily Cole is the Owner and Director of Fun of the Savannah Bananas, a viral sensation and touring baseball team centered around the idea of fans having a great experience, win or lose. Since graduating college, Emily has worked with several baseball franchises and consistently discovered new ways to put the fans first and create unique and memorable experiences you wouldn't find at other ballparks. After 7 years of experience in the baseball industry, Emily and her husband created the Savannah Bananas, one of the most recognizable baseball teams outside of the major leagues due to the way they create a phenomenal fan experience. In this interview, Emily goes bananas about putting fans first, eliminating friction, and making baseball fun.
Putting Fans First
"For us, it is always going to come down to putting fans first."
Fans come first. It's a simple recipe to success, and it's something the Savannah Bananas have made sure they always prioritize. Whether it's the unlimited food included with the price of your ticket or watching the middle-aged dad dance team, Emily has made sure there is something for every type of fan at a Bananas game. By creating a truly memorable experience where there is something for every guest big or small, the fans feel included. They'll rave about the positive experience everywhere, leading to increased media presence, more ticket sales, and people coming back for more.
However, putting fans first goes deeper than the scripted experience. In every aspect of the operation, Emily has ensured that the fans are always the center of attention. Before players even get their uniform, they go through a multiple-hour course about putting fans first to ensure that the players are creating the best experience possible. By bringing in players and employees dedicated to the fans, Emily has made an operation that truly makes everyone a part of the family. 
Eliminating Friction
"Your experience as a fan is scripted long before you come."
It's simple, guests don't enjoy it when there are inconveniences. However, Emily shares how  the Savannah Bananas experience is scripted as close to perfection as possible. By thinking about the possible roadblocks and learning from previous mistakes, guests will find their experience to take much less work. Although unlimited free food may sound like a logistical nightmare, the operation works perfectly for the guest, and they get to avoid line delays from payment issues, as well as taking out their own wallet.
Emily knows the Bananas aren't immune to curveballs. After announcing their locations for their upcoming season-long tour, the website shut down because there were so many people trying to buy tickets. While this is a good problem to have, it's important to still learn from these mistakes and try to make the guest experience as frictionless as possible, whether it's online, in the stands, or in the ballpark. 
Making Baseball Fun
"We're a baseball team, but we're better known as a traveling circus."
Baseball is a popular sport, but it isn't loved by every single person. By creating a fun and interactive experience, Emily has seen the Bananas go from players refusing to dance all the way to choreographed dances that go viral on TikTok. By working to create a team that has fun with the fans, baseball can be fun for everyone. In addition, the Bananas don't script their games, keeping the same competitive spirit that baseball is loved for.
After every game, the Bananas host a block party where all the dancing dads, grandmas, mascots, and players meet with the fans and sign autographs. By encouraging the players to spend time with the fans and the fans to spend time with the players, Emily has created a symbiotic relationship that encourages and fosters growth in both the guest and employee experiences.
To learn more about the Savannah Bananas, you can find them here. To contact Emily, you can connect with her on Linkedin.
This podcast wouldn't be possible without the incredible work of our amazing team:
Scheduling and correspondence by Kristen Karaliunas
Summary by Mason Nichols
To connect with AttractionPros: attractionpros@gmail.com