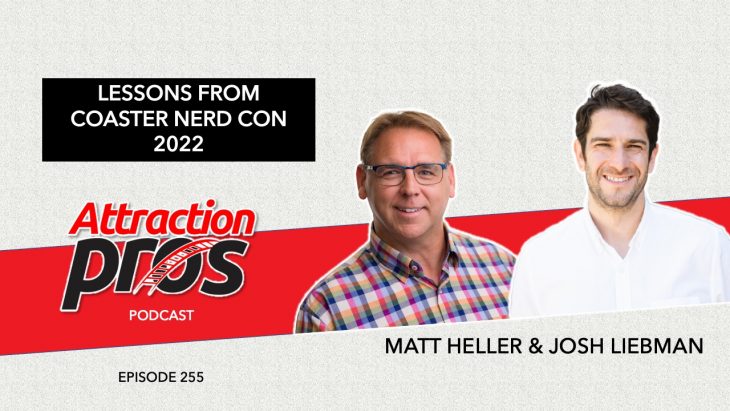 Episode 255 – Matt and Josh discuss lessons from Coaster Nerd Con 2022
Coaster Nerd Con is the yearly trek by Matt and two friends to ride as many roller coasters as they can in an 8 or 9 day period. This year, the trip included stops at Six Flags Great Adventure, Knoebels Amusement Resort, Hersheypark, Lakemont Park, Kennywood, Kings Island, Kentucky Kingdom, Holiday World, Indiana Beach Boardwalk Resort, and Cedar Point. In this episode, Matt shares his observations and experiences and he and Josh turn them into valuable operational lessons.
First, Matt shares some of his favorite, most memorable moments of the trip – some that were directly influenced by the park and employees, others that were made possible by the atmosphere the park created. By discussing these individual moments, Matt and Josh drew connections between them and linked them to the intersection of guest and employee experience.
Next, Josh and Matt discuss the following observations and how they relate to a successful guest and employee experience.
Make feedback easy – Six Flags had large posters with a QR code for guests to leave positive feedback for their team members.
Sound/Audio matters – whether a ride spiel or a storytelling element in an attraction, if people can't hear or understand what's being said, a large portion of the story and experience is lost.
Presentation matters – from Hersheypark's Ferris wheel appetizers to Kings Island's employees, the visual impression of your experience cannot be underestimated, both from the guest and employee perspective.
Don't forget the human component of a tech-driven world – at Kennywood, even though the process for buying and using the skip-the-line pass was done completely from your phone, they still had people standing by to help answer questions and for "emotional support."
How do you say goodnight or goodbye to your guests (or employees)? Do you have a strategy to reinforce the great memories created so that they want to come back again and again?
This podcast wouldn't be possible without the incredible work of our amazing team:
Scheduling and correspondence by Kristen Karaliunas
Branding and design by Fabiana Fonseca
To connect with AttractionPros: attractionpros@gmail.com
---
For audio only, click here:
Podcast: Play in new window | Download