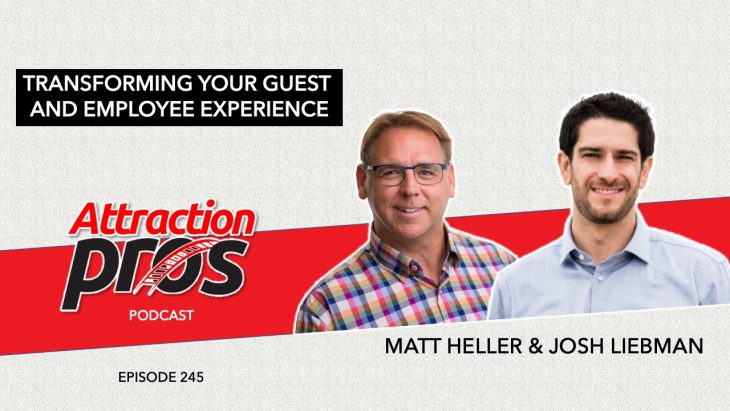 Episode 245: Matt and Josh talk about transforming the guest and employee experience
Transformation to reach the next level is one of the most delicate processes throughout the attractions industry. In the current state of the industry, we're dealing with a time where people feel different than they've ever felt before. The only answer to help adapt to this new era is transformation to enhance the employee and guest experience. Challenges await behind the door we're approaching, and in this episode, Matt and Josh discuss methods and ways to transform both the guest and employee experience to help combat arising issues and ensure stability in a time where it isn't guaranteed. 
Pandemic Recovery (Showing Appreciation)
Throughout the past 2 years, the world has shifted drastically. As a result, the ideologies of people have also shifted within the guest and employee worlds. For example, showing appreciation has become one of the most key elements in both of these worlds due to these changes in ideology. Not only should guests feel appreciated for visiting your location, but employees who help create these experiences should also be recognized for the work they do. 
Guests could be doing anything else other than visiting an attraction, so it's important that their presence is recognized. The same thing goes for employees, as they could be working at a different location or working from home. Showing appreciation and recognition has become practically essential after the reset the world recently went through, and people will no longer visit or work for a place that doesn't show them the gratitude they deserve for going out of their way.
How to go about Transformation
Going about transformation is not an easy task. Guidance and critical thinking is essential to develop a meaningful transformation that will give positive results. Following a tailored criteria to help develop transformation will be a 'North Star.' Although the end goal may be vague, using a structured method to transform one emotion to another can lead to a transformed audience, who may not even know they've been transformed. In addition, using resources is a key element to transform experiences. Companies often have multiple departments, and creating joint efforts can really help attack pressure point elements of transformation.    
Measuring transformation can be a difficult task. Guests and employees are very different, yet incredibly intertwined. Overall, seeing how behavior changes in a person is the greatest indicator of transformation for all types of people. If a guest begins to become a consistent visitor, that may show that the changes you made transformed that guest. If an employee begins to refer more of their friends, that may also be a big indicator that your methods of transformation have been successful. By recognizing these changes in behavior, transformation can be altered to achieve the behavior you want. 
Removing barriers
One of the biggest obstacles in transforming somebody's behavior is limited vision they have to the bigger picture. Getting someone to say "I've never thought of it that way" is one of the key gateways into transformation. Whether it be for the guest questioning why a restrictive policy exists to an employee wondering why the call-out system exists, helping people see the bigger picture can help change their behavior and lead to a positive transformation. Everyone only sees what is in front of them, and helping them see what goes around policies or experiences can help transform that person. 
The same way works when moving up the corporate ladder. As you slowly move up, you begin to see the land below you and how it intertwines with each other. Moving from an hourly position to an operations team leader transforms a person sheerly by how much more they're seeing. By spreading that knowledge, the dots can connect and more people can understand that they're no longer a cog in a machine but rather a unique individual contributing to the operation, far beyond the job description. Overall, by giving more pieces of the puzzle and connecting it for someone, they can be transformed and have their behavior changed. 
There are many more ways that transformation can occur, and we are eager to further explore this conversation and hear your opinions on the topic. 
Feel free to share your thoughts on Twitter and LinkedIn, and tag @AttractionPros. Tell us what you're going through and tell us how you're transforming your experience, or even tell us how you're struggling.
This podcast wouldn't be possible without the incredible work of our amazing team:
Scheduling and correspondence by Kristen Karaliunas
Branding and design by Fabiana Fonseca
Summary by Mason Nichols
To connect with AttractionPros: attractionpros@gmail.com
---
For audio only, click here:
Podcast: Play in new window | Download