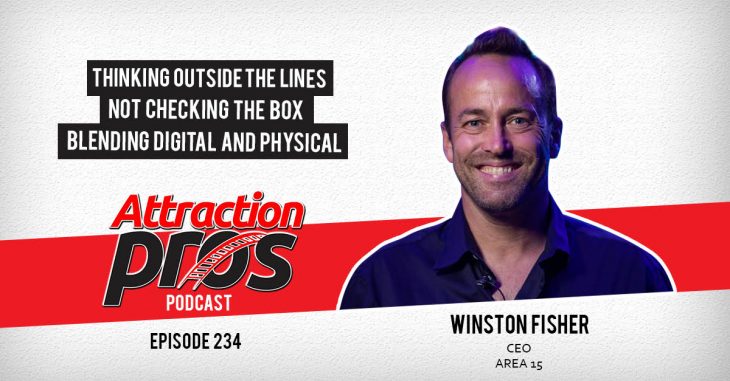 Episode 234: Winston Fisher talks about thinking outside the lines, not checking the box, and blending digital and physical
Winston Fisher is the CEO of AREA15, an immersive "content box" in Las Vegas, NV.  Winston's background is in real estate development and operations, as part of his family's business, Fisher Brothers, which dates back to 1915, and owns land in Las Vegas.  AREA15 was intentionally built for the experience economy and houses iconic attractions that include Meow Wolf, multiple types of VR experiences, ax throwing, creative dining options, entertainment, and events, that is tied together with large format art, projection mapping, that according to Winston, makes for a badass environment.  In this interview, Winston talks about thinking outside the lines, not checking the box, and blending digital and physical spaces.
AREA15 opened in September 2020.  Despite being in the heart of the pandemic, Winston said that this enabled them to have the ultimate soft opening, and they benefited from being the only good news in town, which filled the void.  Winston stresses that you never stop when it's bad… that's when you go deeper.  AREA15 was able to establish a brand name without the intense competition that would otherwise challenge the venue's opening.
Thinking outside the lines
"I appreciate creativity, and I can appreciate how you put a business process to creativity without diluting it."
Winston comes from a real estate background but says that he has a love of everything spectacle, zany, and creativity, yet rooted in deep business processes.  In real estate and also in the attractions industry, there is too much fear of creativity.  Thinking outside the lines can be so scary for some people.  To demonstrate this, Winston shares that he has a tattoo of the word "perspective" on his arm that has a box that is ever-opening.
The riskiest thing you can do is whatever everybody else is doing.  This commoditizes the business, which results in commoditized returns – usually a race to the bottom.  By thinking about the journey that the customer is going on and the emotion that you are trying to convey, it leads to decisions in the design process, whether it is a residential space or an entertainment space.
Not checking the box
"Either do it 100% or don't do it at all."
Don't do something for the sake of doing it and having it done.  The act of "checking the box" is lazy and pathetic, according to Winston.  Winston conveys that there are amazing theme parks and there are some that are lazy, just as there are buildings that are amazing and creative, and some that are lazy – they met a functional need but never exceeded the minimum requirements.
The mindset of not checking the box flows through Winston's leadership philosophy.  Winston shares that his team is built on culture, respect, success, and accountability.  As a leader, Winston is never satisfied, meaning there is always an opportunity for a high-performing team to keep pushing the envelope on what's possible.
To build this type of culture, it requires a team that is comfortable going 120mph instead of a steadier pace of 60mph.
Blending digital and physical
"I see a world where the digital and physical are blended together."
You need new, and you need innovation.  The physical space, which is generally where the attractions industry is based, is at an interesting intersection.  With the rise of digital spaces – such as the metaverse – becoming increasingly realistic, the attractions industry needs to consider how it fits in.
Is there a digital skin or avatar that can enhance your experience in the physical space, or can physical events be linked with a digital overlay?  There are understandable limitations to this – for instance, Winston does not believe that a concert should exist solely in the digital realm, given that the energy of screaming fans cannot be (currently) replicated virtually.
Winston believes that the best applications of the metaverse are when they are seamlessly integrated into the physical space, and attractions have the content of the physical that can make the metaverse very interesting.  For instance, wearing a VR headset on a roller coaster, while the technology is still in evolution, is still better than riding a virtual roller coaster while wearing a headset at home.  And while we can't compete with the behemoths of Meta or Microsoft, we have the content that they need.
Theme parks and attractions provide primal joy, and that cannot be replaced on a computer.
To learn more about AREA15, visit www.area15.com.  To reach out to Winston directly, connect with him on LinkedIn.
This podcast wouldn't be possible without the incredible work of our amazing team:
Audio and video editing by Abigail Giganan
Scheduling and correspondence by Kristen Karaliunas
Branding and design by Fabiana Fonseca
To connect with AttractionPros: attractionpros@gmail.com
---
For audio only, click here:
Podcast: Play in new window | Download