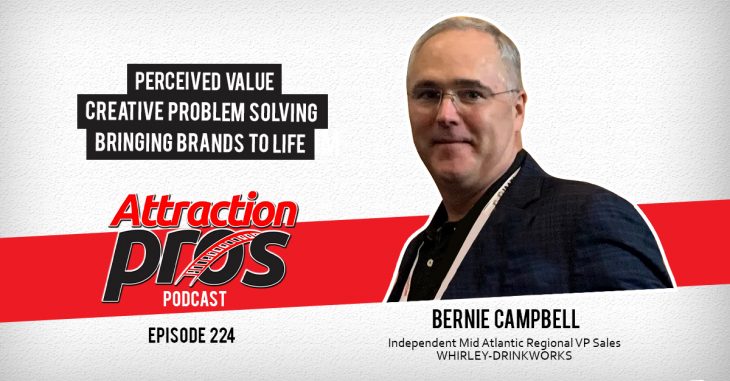 Episode 224: Bernie Campbell talks about bringing brands to life, perceived value, and creative problem solving
Bernie Campbell is a Regional VP of Sales for Whirley-DrinkWorks, which designs and manufacturers vessels for drinks and food items for theme parks and attractions, along with the programs that surround their sales.  Whirley-DrinkWorks is made up of Whirley, DrinkWorks, Easygo, and Valid Fill, which all serve a unique purpose for food and beverage containers.  Bernie has been in the attractions industry for more than 30 years, and is heavily involved with IAAPA as the chair of the Food & Beverage committee.  Bernie is also an avid water polo player, and despite not having had the chance to play since the beginning of the pandemic, would normally play two to three times a week.  In this interview, Bernie discusses bringing brands to life, perceived value, and creative problem solving.
Bringing Brands to Life
"It can be a lot of fun to help bring brands to life."
It's putting a drink in a container, but it's more than that.  Oftentimes, when working with a large client such as Disney, Whirley-DrinkWorks will start from scratch when looking at the concept, theming, and intellectual property when it's applicable.  When looking at going from concept to completion, it often involves building from the ground up, beginning with discussing the overarching concept and design, along with inputs from all necessary teams.  This can include ideation with the client, gaining approval from the park, the IP owner, as well as Coke and Pepsi in some instances.
The design of the vessel is also critical not only for the brand, but for awareness from other guests in the park.  When a guest buys a souvenir cub or bottle, the design acts as a walking billboard that represents the brand, which ultimately leads to higher demand for the vessel.
Perceived Value
"The souvenir beverage container is second only to the gate in revenue for a lot of theme parks."
Souvenir containers can be very profitable.  Whirley-DrinkWorks has a playbook that identifies what will be successful.  When the playbook is executed successfully, it is a huge revenue driver for parks.  Bernie shares that even more than the value it brings, the perception of value can be even a greater attraction for people.  Guests have a high perception of value for a souvenir container that enables them to get free or low-cost refills throughout their day at the park, and then acts a souvenir when they get home.  The playbook also helps operators increase their penetration rate, which is the number of bottles sold divided by the total attendance.
Bernie also shares that the frontline food & beverage staff are a big influence on the success of the program.  The souvenir bottle is an easy suggestive sell due to its high perceived value, so it is one of the easier things to train a staff member to upsell due to a high win rate when offered.
It is also important to plant the seeds for the souvenir bottle throughout the park to make it easier for the staff to suggestively sell the bottle.  This includes signage at multiple points throughout the park and visual imagery at concession locations, rather than text on a menu board that says "Souvenir bottle."  People need to regularly see the bottle throughout their visit and associate it with the perceived value that it brings, which will result in higher sales.
Creative Problem Solving
"When the programs became so successful, it actually became a problem.  We were clogging food lines up because people wanted to refill their beverages, and that was slowing transactions down."
Over the years, challenges surrounding the souvenir bottle program have led to innovative and unique solutions.  For instance, guests who purchase a souvenir cup or bottle in a theme park are not permitted to take them on the majority of rides, specifically rides with stricter loose article policies, requiring the guest to place the bottle in a locker or leave it with a non-rider.  As the programs evolved and this challenge was identified, parks began implementing cubbies or holders on ride platforms that were specifically designed for souvenir bottles – many of them even mimicking the layout of the ride vehicle so guests can place the bottle in cupholder that is equivalent to their seat as to not confuse it with another guest's.
Additionally, when it became clear that the #2 reason people wouldn't buy a cup due to difficulty carrying around (#1 being price, which is expected), it was determined to add a strap or lanyard to the bottle that made it easier to carry.  This $0.07 item led to a 30-40% increased in sales in most parks.
Easygo, which is the RFID division of Whirley-DrinkWorks, is integral to self-service refills.  In the food & beverage world, increasing the number of transactions is important.  If it takes 20-30 seconds to transact and fill a vessel, and you can move the guests who are refilling their cup out of line, the concession can now fulfill that many more transactions.  It saves time and drives revenue even further.  When this was first installed on cruise ships, the benefits were noticed immediately.  Guests on a cruise ship with a souvenir bottle would previously need to have their bottle refilled at a bar, which takes time away from bartenders serving alcohol and also impacted their tips.
Due to COVID-19, many food & beverage operators have been trying to move away from fountain machines that require pushing a lever or a button in the interest of going contactless.  Valid Fill, which is Whirley-DrinkWork's technology division, the team came up with a touchless valve, which plugs in to where the faucet is and you just need to break a line instead of touch the machine to fill up the cup.  There are also new developments in the pipeline, such as dishwashers that can clean vessels in more expedited manner, digital printing that allows the company to create smaller quantities and widen the number of businesses that they can serve.
When attending Broadway plays, one of the biggest frustrations that Bernie had was that guests could not bring a drink from the bar to their seat, which required them to drink it quickly before entering the theater.  When Bernie researched this, he learned that it was due to concern of spills in the theater.  By putting a lid on the cup, it would solve the problem, but it was not an idea that was adapter overnight.  Over the course of about 10 years, one theater decided to give the "adult sippy cup" a try.  As a result, they generated 8-10x revenue compared to prior the implemtnation.  The additional cost for the lid became insignificant compared to the revenue that was returned.  What ultimately started as Bernie looking to solve a problem for himself ended up being a million dollar idea.
When asked about unique or unusual vessels, Bernie shared the story of a martini glass used for Radio City Music Hall that had a stem resembling Rockette legs, which turned into the "Rockettini."
Bernie can be reached at whirleydrinkworks.com, along with all information regarding all products and divisions within the company.
This podcast wouldn't be possible without the incredible work of our amazing team:
Audio and video editing by Abigail Giganan
Scheduling and correspondence by Kristen Karaliunas
Social media marketing by Kate Kujawa
Branding and design by Fabiana Fonseca
Email marketing by Sam Bercik
To connect with AttractionPros: attractionpros@gmail.com
---
For audio only, click here:
Podcast: Play in new window | Download