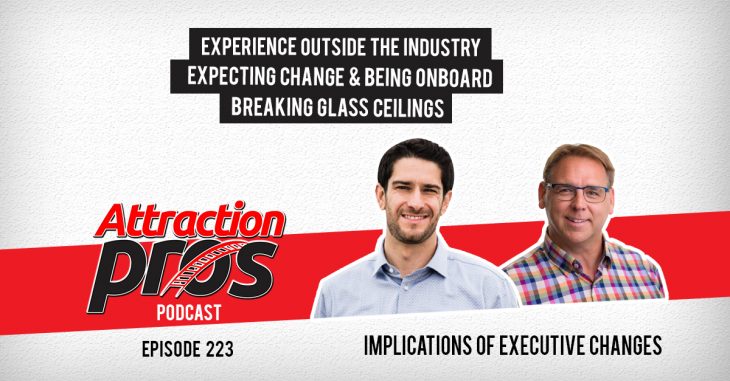 Episode 223: Matt and Josh talk about executives with experience outside the industry, expecting change & being onboard, and breaking glass ceilings
The topics for this episode were crowd-sourced from AttractionPros listeners. The request was put out on social media to share topics or questions that Matt and Josh would discuss. We got a number of great suggestions that inspired a conversation that went in many different directions.  In this episode, Matt and Josh talk about executives with experience outside the industry, expecting change & being onboard, and breaking glass ceilings.
Experience outside the industry
"Being able to see the influence of other industries adds a whole new dynamic."
Many people, including Matt and Josh, consider it a badge of honor to have "grown-up" in the attractions industry. Stories of current executives starting out as sweepers, ride attendants or photographers on the frontlines are very common, however with a new batch of executive leadership changes at companies like Disney, Six Flags and Universal, we're seeing more of a willingness to look outside the potential "echo chamber" to embrace new directions for the industry to grow.
And it's necessary. The attractions industry isn't delivering the exact same product it was even 10 years ago, nor should it. As consumers' needs and desires change, so too should the way we interface with them. Mobile ordering, dynamic pricing, enhanced food and beverage, and increased VIP experiences are all examples of us allowing ourselves to be influenced by other industries. This new crop of leaders will no doubt be willing to try things the industry has never seen before. 
Expecting change and being on board
"As you approach this from the middle of an organization, you know change is going to be inevitable."
With all the leadership changes being announced, the question of "how do leaders within the company handle that?" It's a great question. First, we must recognize and be ready for the fact that change WILL happen. Whenever there is that much of a shake-up at the very top of an organization, there will be philosophy and strategic changes that will likely alter the way business is conducted. It's natural to resist this because it's different and unknown, but we must resist the urge to resist!  Sometimes from the middle of an organization we don't have access to all of the information that executives are using to make decisions, but we owe it to them, our peers, our teams and our guests to get on board and make the best of the changes you are being asked to make. If you end up sabotaging their efforts through your stubbornness, you can't blame the executive when their initiative fails. 
This doesn't mean you should blindly accept new policies and changes. You have a responsibility to ask questions, to clarify, and to understand the changes so you can carry them out correctly AND communicate them to your team.
Breaking glass ceilings
"It's not yet normalized for [a woman] to be in that role."
Josh and Matt discuss the need or validity of including gender or race classifications in article headlines. A LinkedIn post questions whether or not it should have been noted that Disney appointed the first woman chairperson, or should the story be about hiring the right person for the job?
There are a few angles to consider.  From a human standpoint, both Matt and Josh agree that no, that classification probably doesn't need to be in the headline. However, if the article writer is looking for clicks or opens, they are likely going to create the most provocative title they can think of. Until it's normal for non-white males to be in the executive positions we're talking about, journalists will likely continue to point out those characteristics to get people to read or react to their articles. 
Yet another viewpoint to consider is that if individuals don't see themselves in the roles they aspire to, it's harder for them to picture themselves doing that and therefore more difficult to find the path forward potentially. So if an article says that Disney has appointed a woman or that the first openly gay football has been drafted into the NFL, it gives hope and a role model to others.
This podcast wouldn't be possible without the incredible work of our amazing team:
Audio and video editing by Abigail Giganan
Scheduling and correspondence by Kristen Karaliunas
Social media marketing by Kate Kujawa
Branding and design by Fabiana Fonseca
Email marketing by Sam Bercik
To connect with AttractionPros: attractionpros@gmail.com
---
For audio only, click here:
Podcast: Play in new window | Download