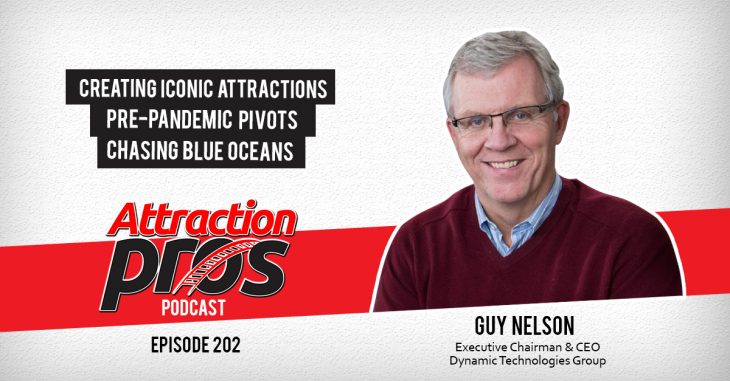 Episode 202 – Guy Nelson talks about creating iconic attractions, pre-pandemic pivots, and chasing blue oceans
Guy Nelson is the CEO and Executive Chairman of Dynamic Technologies, the parent company of Dynamic Attractions.  Dynamic Technologies was founded in 2006, and Dynamic Attractions was founded in 2011.  Then, Dynamic Entertainment was created, which had a focus on creating more complete rides internal to the company or through partnerships, instead of being the ride system vendor.  However, Dynamic's work in themed entertainment began prior to all of these dates, back when the company was still just Dynamic Structures.  Dynamic has been a major player during the past few decades in terms of developing cutting-edge ride system technologies and solutions.
Prior to his work with Dynamic, Guy held leadership positions in a variety of different industries, including construction, transportation, manufacturing, and venture capital.  During that time, he worked at a range of different companies, from small startups to larger corporations.  Guy believes it is this diverse set of leadership positions that really helps him succeed today because he has been able to learn various things from each of his former roles.  When asked about the qualities of a good leader, Guy emphasized the importance of having a clear vision for where the group or company wants to go.  Without this vision, you will never be able to make that goal a reality.  Furthermore, Guy emphasized the importance of persevering through setbacks and speedbumps on the way to that vision.  Again, if you are willing to back down at the first sign of adversity, you'll never make it to your goal.
Guy discussed how Dynamic has evolved over the years.  For example, with the founding of Dynamic Attractions, the company shifted away from manufacturing components internally and instead built up its internal engineering expertise.  By focusing on the most challenging engineering questions internally and outsourcing manufacturing, Dynamic really refined its place in the industry.  Additionally, Dynamic began to do more internal development work that wasn't necessarily tied to a project.  By coming up with innovative new systems, they could then show off their engineering prowess and attract new clients with their new offerings.  
Despite being very good at innovating on their own, Guy discussed the value of collaborative innovation with their clients.  The most obvious advantage of working with the park or other themed entertainment venue where the attraction will be installed is that the risk of trying new things is shared between that client and Dynamic.  Another advantage is that the client usually has a good idea of the type of guest experience they are looking for, and Dynamic has the ride system know-how to make that vision a reality.  By knowing who the intended future guests will be, it helps everyone on the project keep the design decisions customer-focused.  Guy went on to further discuss the benefit of beginning that collaboration as soon as possible so that the complete team has time to prototype and iterate in order to come up with the best possible solution.  
Guy shared that Dynamic's motto is "Anything you can dream, we can build."  That being said, he emphasized that "dreams can be expensive," but that with enough resources and time, almost any engineering challenge can be solved.  However, most clients don't have an unlimited budget or unlimited time to open their next big attraction.  Dynamic helps customers create the best possible ride within their financial and time constraints.  Because of the pandemic, those constraints have gotten even tighter.  Many parks are holding off on new developments until they feel confident that they have nearly recovered from the time they were closed or at limited capacity.  When asked about the lasting impacts of the pandemic on attractions, Guy said that he believes most of the changes will be within park operations and not the ride designs.  
When asked about the most impactful innovations and trends during his 15 years within the themed entertainment industry, Guy first pointed out the popularity of immersive, media-based attractions.  Hand-in-hand with that growth has been the evolution of dark rides.  Building further on this, Guy pointed out the growing use of sophisticated controls and more complicated software being used to control the motion of ride vehicles.  All of these things fall within Dynamic's list of specialties.  As an example, Guy pointed to Harry Potter and The Forbidden Journey at Universal as a good example of all of these trends and how it has been inspiring the next generation of cornerstone attractions at world-class amusement parks.  When asked about what he thinks will be the next big thing, Guy pointed to another Universal attraction:  the new Mario Kart attraction at Universal Studios Japan.  It uses augmented reality to add a whole new level of immersion to the guest experience and further blur the lines between the experience and reality.  Going along with this enhanced immersion are even more sophisticated motion bases to really sell the experience the riders.
If you'd like to get in contact with Guy or learn more about Dynamic Technologies, you can visit their website.
This podcast wouldn't be possible without the work of our amazing team:
Audio and video editing by Abigail Giganan
Complete episode summary by Paige Reiter
Scheduling and correspondence by Kristen Karaliunas
Social media marketing by Kate Kujawa
Branding and design by Fabiana Fonseca
To connect with AttractionPros: attractionpros@gmail.com
---
For audio only, listen here:
Podcast: Play in new window | Download