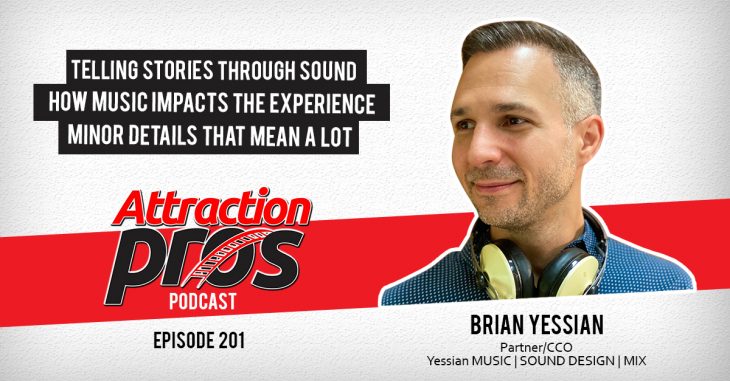 Episode 201 – Brian Yessian talks about telling stories through sound, how music impacts the experience, and minor details that mean a lot
Brian Yessian is the CCO and a Partner of Yessian Music.  Yessian Music is a company that does sound design and mixing as well as creating new music and sound effects for commercials, television, film, rides, and other themed entertainment experiences.  They are involved throughout all stages of development, from the concept generation to mixing the final sounds on-site.  While Yessian Music is now an international company doing projects around the world, it started out with humble roots near Detroit.
Fifty years ago, Brian's dad converted an old bait and tackle shop in the Detroit area into a music studio.  He was a musician and started writing jingles for the automotive industry.  Brian and his brother eventually joined their father in the family business.  Brian was a classically-trained clarinet player and enjoyed playing in orchestras.  However, he felt himself pulled towards his father's business, and he and his brother decided to expand outside of Detroit.  Yessian Music now has offices in New York City, Los Angeles, and Hamburg, Germany.  The leap into the themed entertainment space came about 15 years ago when Brian was working on a project with a producer from Jack Rouse Associates.  They were invited to create music for an attraction, and that was the start to Brian's passion of creating sound for themed attractions.  Brian had grown up going to Disney and Universal parks so getting a chance to work on attractions was a dream come true.
One of the most important goals of sound in themed attractions is to immerse the guest into that environment and into the story.  In a theme park, it is very likely that the area outside the entrance to an attraction and the inside of a show building are supposed to represent completely different worlds or experiences.  Brian says that queue music and sound effects are used to immediately help the guest feel as if they have been transported to a new place.  Appropriate music and sound effects work in harmony with the visuals of a space to create the right atmosphere for the upcoming ride.  In addition to helping the guest feel transported, sound can help set the tone of the experience by evoking certain emotions within the guests.  Whether the attraction will be light and upbeat or a little more moody or mysterious, the tone of the music or choice of particular sound effects that are layered on top of that music can really prepare the guest for the upcoming ride.  Those same principles also work during the ride experience itself, not just in the queue. 
A key aspect of selling the realism of the attraction's sound or making sure the proper tonal mood is set is being able to experience the sound within the environment it will be used.  Brian emphasized the importance of spending as much time on-site as possible when doing the final mixing and timing of sound in rides and their queues.  For example, the size and shape of a room, its acoustics, and the quality and position of the speakers within that room have a huge difference on how music will sound compared to what it sounded like in the very controlled studio.  That's why Brian and his team spend as much time as possible utilizing their mobile soundboards to tweak the sounds on-site.  In order to get the little details just right, like a sound that is meant to guide guests to look in a certain direction, the team will sometimes make small tweaks to the direction that speakers are pointing in order to help the visual and sonic realities match.  In addition, the amount of bodies in a space can really change the sound quality of an area so Brian will often stick around after a ride opens to see if tweaks need to be made to compensate for a full queue line or a full ride vehicle.
Another unique aspect of creating sound for attractions is that you have to work closely with many other vendors.  Brian works closely with the vendor supplying the A/V equipment from the beginning so everyone is on the same page about the audio capability of the system.  Brian's team also has to work closely with the ride vehicle vendor.  For example, Brian is currently working with Dynamic Attractions on a new flying theater ride.  Since the seats will move, it is important for Brian's team to know when that movement is happening so they can coordinate the music with those big moments.  Additionally, they work closely with the team creating the visuals for the ride, and the final music and sound effects can't be created until the visuals are nearly finalized so everything can be timed properly.  There are also other special effects on some rides, such as scents, water, and wind that need to be understood and taken into consideration to make sure the whole experience is cohesive between all of the guests' senses.  Making sure all of those elements work together in harmony can help a guest experience something new for the first time, and it is important to Brian, his team, and everyone else working on the attraction that the experience be as authentic, but also as breathtaking, as possible.  Brian said one of his favorite moments was watching guests ride an attraction for the first time.  To see their eyes light up or see them smile makes the many late nights of on-site tweaking completely worth it.
If you'd like to get in touch with Brian or learn more about Yessian Music, you can visit their website.
This podcast wouldn't be possible without the work of our amazing team:
Audio and video editing by Abigail Giganan
Complete episode summary by Paige Reiter
Scheduling and correspondence by Kristen Karaliunas
Social media marketing by Kate Kujawa
Branding and design by Fabiana Fonseca
To connect with AttractionPros: attractionpros@gmail.com
---
For audio only, click here:
Podcast: Play in new window | Download