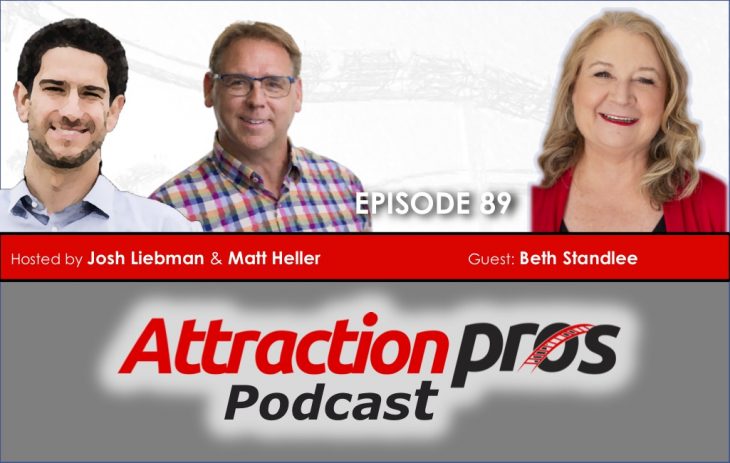 AP Podcast – Episode 89: Beth Standlee talks about her new book, building relationships and being "pitch slapped"
Beth Standlee is the author of People buy from People, a new book about sales and the all-too-common struggle many people have with becoming the salesperson they need to become. Beth tells how to build relationships without being the annoying, smarmy used-car salesman none of us want to be. She also shares how the process of selling shouldn't be simply about a transaction, but about building relationships so you can genuinely help others with your experience and services.
For more info on Beth: TrainerTainment
We'd love to hear your thoughts or suggestions for future episodes, or any questions you have for the mail bag!
Josh – josh@backlooper.com
Matt – matt@performanceoptimist.com
This episode is brought to you by FunRating. If you work in any area of the attractions industry, you're probably curious how guests at your attraction perceive critical areas of guest experience. Which facility type provided the best service in 2018? Who really needs to improve their food service? And which attraction saw the highest increase in likelihood to return? These questions, and more, can all be found in the FunRating Report, and this is information that only Amusement Advantage can provide. The FunRating Report can be found at funrating.com, and we have an exclusive offering for AttractionPros listeners. To save 10% off of the one-time purchase of $375, tune into the podcast!
Podcast: Play in new window | Download