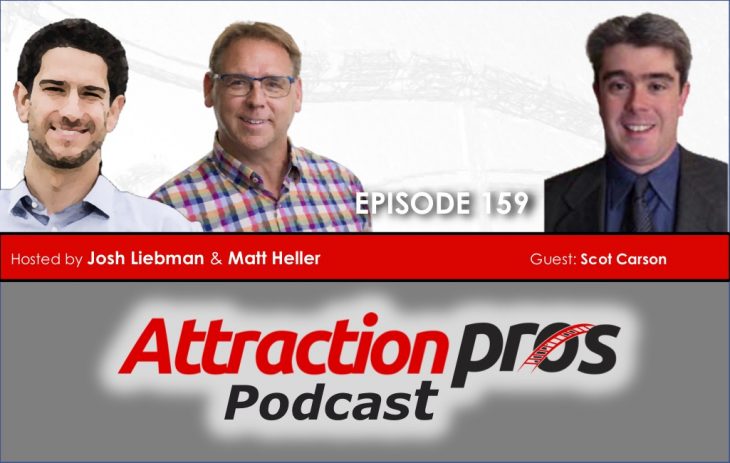 AP Podcast – Episode 159: Scot Carson talks about reputation management, guest psychology and moving a park
Scot Carson is the Founder and Chief Experience Officer at Amusement Advantage, a company that provides guest experience solutions, such as mystery shopping, to the attractions industry.
In this episode, Scot gives us insight into reputation management, shares how he got to close down the old Elitch Gardens park and open the new one, and why he prefers the term "new weird" to new normal.
For more on Scot and Amusement Advantage:
Website: https://www.amusementadvantage.com/
Scot's email: scarson@amusementadvantage.com
To learn more or enroll in Matt's upcoming webinar: 5 Strategies to Improve Communication
This episode is brought to you by BackLooper. If you're tired of learning about guest complaints from online reviews, read on. It's time to protect your reputation while still getting valuable data so you can make enhancements to your guest experience. Using the most effective ways to generate responses, combined with intuitive reporting that quickly points out the largest issues, BackLooper enables you to strengthen your operations with superior guest experience intelligence that leads to higher satisfaction. Now more than ever we need to bring our guests into the conversation so they can be a part of our industry's success. Get started today with no minimum commitment by visiting backlooper.com, or email Josh directly at josh@backlooper.com.
For more on Josh and and Backlooper:
https://www.backlooper.com/
josh@backlooper.com
For more on Matt and Performance Optimist Consulting:
https://www.performanceoptimist.com/
Matt@performanceoptimist.com
#weareallAttractionPros
---
For audio only, listen here:
Podcast: Play in new window | Download