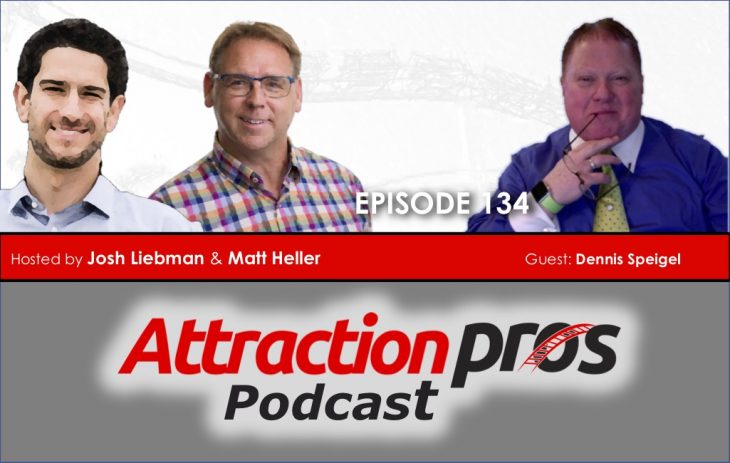 AP Podcast – Episode 134: Dennis Speigel talks about the impact of COVID-19 to the attractions industry and the world
Dennis Speigel is the President of International Theme Park Services, a consulting company that serves the global attractions industry.  We asked Dennis if he could spend some time with us discussing the impact of COVID-19 on attraction operators now and in the foreseeable future.
While Dennis admitted that we really don't know how long this pandemic will last or what the true outcome will be, he was able to provide perspective and advise on a wide range of subjects. A few we touched on were: should attractions be closed, what can we expect from our guests when it's time to re-open and to remember that as an industry, we are resilient.
For more on International Theme Park Services: http://www.interthemepark.com/
To contact Dennis: dennisspeigel@interthemepark.com
Episode Note: In the intro, we mention that Dennis appeared in the show Tenspeed and Brown Shoe.  We later learned that we was actually not in that show but is still credited for it on IMDb.
If you have a question for the mailbag or know of a leader we should highlight on the show, please drop us a line.  If you have questions about anything addressed on the show, feel free to reach out anytime!
Josh – josh@backlooper.com
Matt – matt@performanceoptimist.com
This episode is brought to you by BackLooper.  Have you ever gotten a negative review online?  Better yet, have you ever gotten a negative review online that you actually found to be useful?  Wouldn't you have preferred that that guest contacted you directly?  Every organization has its flaws, and you shouldn't be learning about yours through social media.  BackLooper was created to solve this problem directly, by collecting better feedback data from more guests, especially compared to online review sites and many other feedback collection methods.  By using BackLooper's intuitive reporting, you can better understand what your guests are saying in masses, and make quick decisions from the results.  To learn how you can substantially increase the amount feedback you receive from your guests, visit www.backlooper.com, and contact Josh directly at josh@backlooper.com​.  It's time to spend less time wondering what your guests are thinking, and more time connecting with them on a personal level.
Podcast: Play in new window | Download