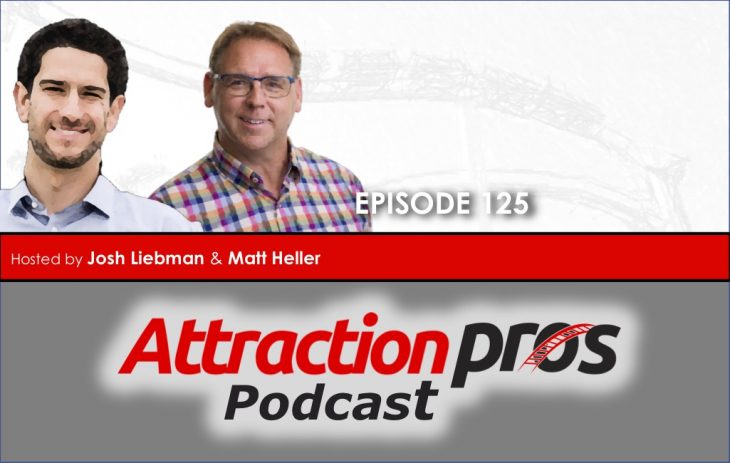 AP Podcast – Episode 125: Josh and Matt take social media engagement into their own hands – hear the live results!
What just happened? Josh and Matt hit the record button with no idea what to talk about. Instead, they decided to try an experiment of asking for topics in real time and the AttractionPros community did not disappoint! In this spontaneous conversation, we talked about:
Performance reviews
Pay rates and raises
Significant changes/challenges over the last decade
Queuing strategies
Employee engagement surveys
How Josh and Matt met and what drives us crazy about each other
If you have a question for the mailbag or know of a leader we should highlight on the show, please drop us a line. If you have questions about anything addressed on the show, feel free to reach out anytime!
Josh – josh@backlooper.com
Matt – matt@performanceoptimist.com
This episode is brought to you by BackLooper. Have you ever gotten a negative review online? Better yet, have you ever gotten a negative review online that you actually found to be useful? Wouldn't you have preferred that that guest contacted you directly? Every organization has its flaws, and you shouldn't be learning about yours through social media. BackLooper was created to solve this problem directly, by collecting better feedback data from more guests, especially compared to online review sites and many other feedback collection methods. By using BackLooper's intuitive reporting, you can better understand what your guests are saying in masses, and make quick decisions from the results. To learn how you can substantially increase the amount feedback you receive from your guests, visit www.backlooper.com, and contact Josh directly at josh@backlooper.com​. It's time to spend less time wondering what your guests are thinking, and more time connecting with them on a personal level.
Podcast: Play in new window | Download