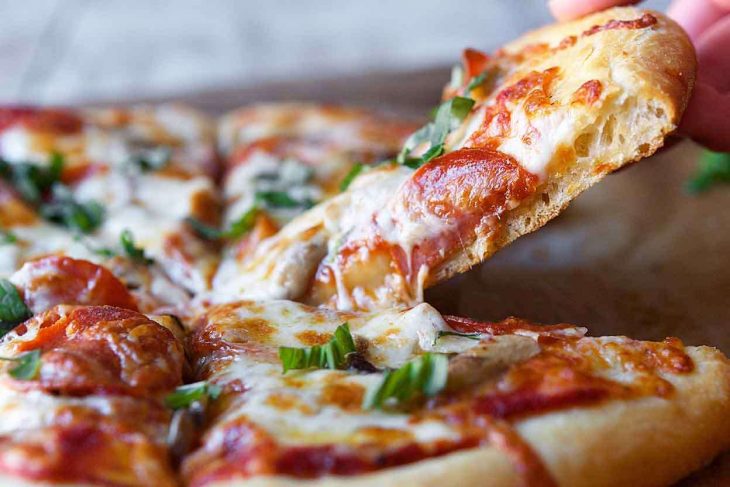 "This a problem that pizza can't solve"
Someone actually said that. "This is a problem that pizza can't solve." Woah.
How did this come about? A few days ago I had a conversation with a good friend and industry colleague (GM of an FEC, we'll call him Shane) who called me because he was having issues with staff morale. His team had told him they felt unappreciated, but when pressed about WHY they felt unappreciated, the staff really couldn't put their finger on it.
So Shane and his management team did what any good, loving mom or grandmother would do when others are suffering… they fed 'em. Everything is better on a full belly, right?  This may work when you fail a test or you got picked last for soccer, but its actually not as effective as we'd like to think it is when it comes to true employee appreciation. It reminds me of this meme: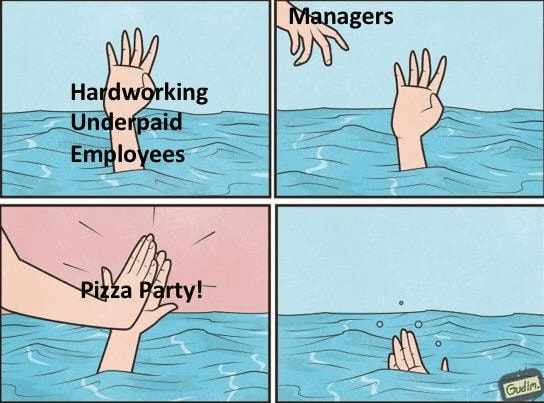 Oh. The horror.
I believe it was sometime after the pizza party that a member of Shane's management staff said, "this is problem that pizza can't solve."
And why not? Because as yummy as pizza is, it can't communicate the value someone brings to the team or organization. It can't quantify a team member's impact on the company or the guests, and it can't sincerely thank a person for their extraordinary efforts. Only another human being can do that.
But it wasn't like Shane's team wasn't trying. He shared with me some of the things that had been going on, and we quickly identified that while well intentioned, these actions may not be creating the desired results
Let's take as look at some of the things Shane's team had done (and how we decided to fix them):
They thanked people on Facebook – after creating an employee only FB group, the managers decided that each day they would go into the group and thank the team for all of their hard work. Sounds like a good idea, until your team tells you they feel this isn't very genuine. Oops. It also potentially thanks or recognizes people who phoned it in that day. So their good intention was not received well. The remedy? Personal, in the moment, specific thanks and recognition to individuals to build trust and show that they genuinely care.
They built in flexibility in scheduling, meaning that they would schedule enough people to run the operation but didn't decide what they were actually doing until they showed up. Flexible for management? Yes. Unstructured, unnerving and unsettling for employees? ALSO YES! This left the employees feeling out of control and haphazard. During these crazy times, employees crave clarity. They actually probably need MORE structure to feel safe. The remedy? Think through assignments and communicate them prior to employees showing up for their shifts.
They helped out. What??? How could this go wrong? Picture if you will, a crew at a go-kart track who is busting their collective hump to keep things running smoothly. Then, without a word, your GM shows up and starts wiping down the cars. Sounds nice, right? Helpful even? But to that crew, they may take it as a message that they aren't doing their jobs well enough, fast enough, or to the satisfaction of the boss, so now he's got to come step in a take over. It could also be that the GM just took away the one position where the crew gets a little break and breather from the intensity of constant go-kart races. The remedy? The GM comes over, lets the crew know he is there to help and asks them how he can best assist them.
**Related story… Josh Liebman and I were talking about this last bullet point prior to recording an episode of the AttractionPros Podcast, and he said he had a very similar situation when working for a photo concession. As the manager, he would jump in, grab the picture off the printer and hand it to the guest. Little did he know that he was taking away a special "moment" that the team really enjoyed. They had worked with this guest to pick the right photo package, etc, and they wanted the satisfaction of completing the transaction by handing the guest the final product. In trying to help, Josh was actually taking away one of the best parts of their job.
So if you are struggling with employee appreciation right now, remember that TRUE appreciation is about:
Communicating the value someone brings to the team or organization
Quantifying a team member's impact on the company or the guests
Sincerely thanking a person for their extraordinary efforts.
And these come from you, not a pizza. So the next time you are inclined to schedule a pizza party, think about Shane. Is there a better way to deliver your appreciation message than with dough, sauce and cheese? I'll be there there is.
If you'd like to chat about how to do this at your facility, grab a 30 minute time slot and we'll brainstorm! Click here to schedule your FREE 30 minute call with Matt.
RELATED: Situational Employee Engagement Webinar Replay
Thanks for reading!
Matt Heller
Distinguished author, speaker, and industry veteran Matt Heller can sum up what he does in three simple words: Helping Leaders Lead.  Matt's firm, Performance Optimist Consulting, has worked with some of the largest attraction operators in the United States, including Six Flags, Cedar Fair, Universal Studios, Apex Parks Group, and Herschend Family Entertainment, along with countless other parks, zoos, museums, and aquariums.  Matt focuses on leadership development, guest service training, eliminating employee burnout, and reducing turnover.