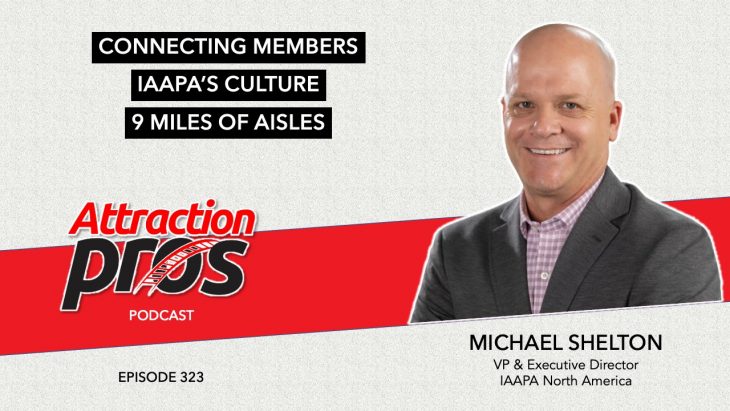 Episode 323: Michael Shelton talks about connecting members, IAAPA's culture and 9 miles of aisles
Podcast: Play in new window | Download
Subscribe: Android | RSS | More
Calling all thrill makers, fun creators, and AttractionPros! Get ready for the ride of a lifetime at IAAPA Expo 2023 – the global attractions industry's premier event. Join us in Orlando, November 13-17, for a week of learning, networking, and exploring trends and new technologies. Discover innovative solutions for growth that will supercharge your business and enhance your career.

Michael Shelton is the Vice President and Executive Director of IAAPA (International Association of Amusement Parks and Attractions) North America. Michael began his career in the attractions industry during his teenage years when his mom suggested that he get a job at Hyland Hills Water World outside of Denver, CO. Over the course of two decades, Michael has progressed within the industry, and was recently appointed as the Vice President and Executive Director of IAAPA North America. Michael now plays a pivotal role in organizing the largest attraction expo globally and contributing to the growth and new age of IAAPA. In this interview, Michael talks about connecting members, IAAPA's culture, and the 9 miles of aisles. 
Connecting Members
"What IAAPA does best is connect members."
Bringing people together solves problems, and that's what IAAPA does best. As an organization covering diverse disciplines and trades, IAAPA serves as a hub where open communication and interactions flourish. Within this collaborative environment, innovations are birthed, and unsolvable challenges find solutions through the collective efforts and expertise of the varied professionals brought together under the IAAPA umbrella.
To build this collaborative atmosphere, Michael has a straightforward approach: more meetings across more regions. Through a diverse array of social events, webinars, educational sessions, and various gatherings of different sizes and formats, members are provided with ample opportunities to connect and engage with one another. 
IAAPA's Culture
"We all need to advocate for this industry."
Michael knows that IAAPA's corporate environment has a very unique and fun culture. In order to succeed, IAAPA brings in professionals from the organization industry, but also the attractions industry. By cultivating an atmosphere of collaboration and fun, IAAPA consistently delivers great results year after year. 
But Michael knows it goes further than that. After all, IAAPA is so much more than an expo. With around 50 committees of volunteers, IAAPA builds a culture centered around the shared affection among its members. 
9 Miles of Aisles 
"Bring your comfortable walking shoes."
IAAPA is dedicated to delivering its best expo year after year, and Michael knows that this year won't come short of that goal. With the expo being IAAPA's biggest offering, it can help open the eyes of professionals around the world to just how big the attractions industry truly is.
From food carts to a brand-new expo photo system, IAAPA is planning on hosting a fantastic expo for 2023. From professional offerings like a new alcohol beverage and innovation pavilion and a record-setting drone show in the evening of the expo, IAAPA is geared up to have another fantastic year.
To connect with Michael, connect with him on LinkedIn, or send him an email at mshelton@iaapa.org.
To learn more about IAAPA, click here. 
This podcast wouldn't be possible without the incredible work of our faaaaaantastic team:
Scheduling and correspondence by Kristen Karaliunas
A/V editing by Abby Giganan
Summary written by Mason Nichols