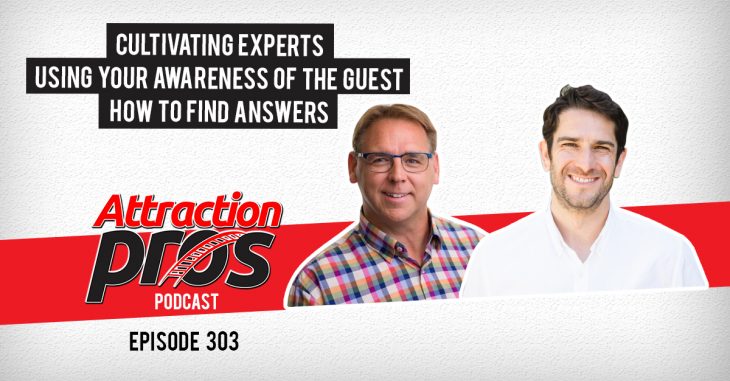 Episode 303: Josh and Matt talk about cultivating experts, using your awareness of the guest and how to find answers
Podcast: Play in new window | Download
Subscribe: Android | RSS | More
There is a lot of talk these days about guests having autonomy and agency to create and curate their own experiences within our attractions. What about the other side of the coin, where guests may need the help and assistance of our expert employees to truly have the experience they want to have?  In this episode, Matt and Josh explore the concept of cultivating experts, using your awareness of the guest and how to find answers. 
Cultivating experts
"You're in my domain. I'm going to tell you how to have the best experience."
We all want our team members to be experts… experts at the functional portion of their jobs, experts at providing service and experts at explaining all of the features and benefits of your facility to your guests. The problem is, that level of expertise takes longer to cultivate than most team members will be around. 
So the first strategy of cultivating experts to serve your guests is to realize it takes time. On top of that it takes coaching, repetition, practice, teaching, coaching and a bit more time. Malcolm Gladwell says that it takes upwards of 10,000 hours of deliberate practice to become world-class at something. That's just over 9 years someone would have to spend becoming an expert in your business. 
 Using your awareness of the guest
"Be aware of what's around you and what people are saying."
Sometimes the biggest impact gesture comes from the act of being aware of your surroundings so you can react in the moment or even anticipate a guest's need because you almost see what they need before they see it. 
Maybe you are passing someone on the midway and you overhear them talking about ice cream or how to get to a show venue. Taking a few seconds to respond could mean the difference in a good guest experience and a great one. However, we can get so focussed on the operation and efficiency that we can lose sight of those in-the-moment opportunities that only present themselves if we are aware of our guests and what they need. 
How to find answers
"Give people the opportunity to learn how to find the information, rather than expecting everyone will know everything."
We've all heard a manager say, "We don't want you to say, 'I don't know' when a guest asks a question."  Okay, then what SHOULD I say?  That is the frustration many team members go through when learning the finer points of their job. The sentiment, of course, is that we want our "experts" to be able to provide any assistance a guest may want. 
In order to do this and help cultivate experts, organizations need to provide tools for team members to learn where to get this information. For example, a park map or app likely has answers to 95% of questions a guest may have, so teach your team how to use the app. It could also be a hotline/helpline that people can call, maybe it goes directly to Guest Services who likely have the answers our operators are seeking. 
It's intimidating to say, "don't say I don't know.", but it's empowering to provide a way for people to find the information they need at a moment's notice. 
To connect with AttractionPros: attractionpros@gmail.com
This episode would not be possible with the incredible work of our team!
Abby Giganan – audio/video editing