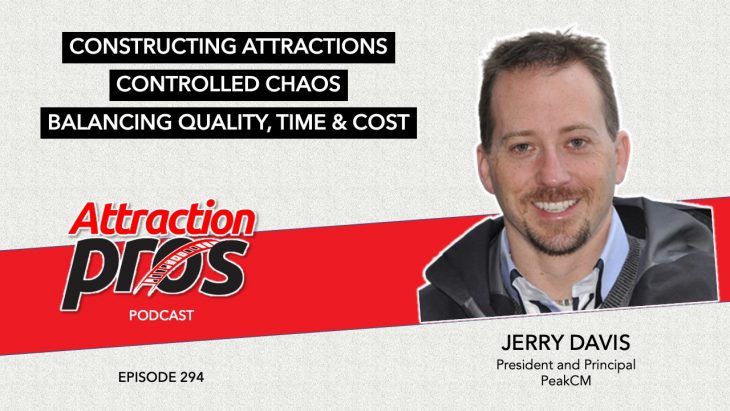 Episode 294 – Jerry Davis talks about constructing attractions, controlled chaos and balancing quality, time and cost
Podcast: Play in new window | Download
Subscribe: Android | RSS | More
This episode is kindly sponsored by Attractions.io, the guest experience platform behind Merlin Entertainments', San Diego Zoo's, and the Kennedy Space Center's branded mobile apps. Like us, the folks at Attractions.io are on a mission to elevate our experiences. Their latest launch adds in-app photos to the Attractions.io mobile app, giving guests more time to view, purchase and share their media with loved ones. Impressively, 88% of consumers say they trust content and recommendations from their friends and family over any other form of marketing – making user-generated content, like photo sharing, an essential strategy for your marketing team this season (according to Nielsen, in its global Trust in Advertising Study in 2021). To learn more about Attractions.io and the new in-app photo feature, visit Attractions.io/photos.
---
Jerry Davis is a seasoned professional in the construction and attractions industry, serving as the President and Principal of PeakCM, LLC, an award-winning construction firm specializing in a wide range of projects from theme parks to healthcare facilities. Jerry's passion for the attractions industry was ignited after graduating from UCF and landing his first job at Beers Construction, where he worked on the iconic Marvel Superhero Island at Universal's Islands of Adventure. Over the years, Jerry has been involved in numerous incredible projects, and took his expertise to establish PeakCM, his own construction management firm. In this interview, Jerry talks about constructing attractions, controlled chaos, and balancing quality, time, and cost. 
Constructing Attractions
"You need to learn how to manage the stress, pressure, and deadlines."
Jerry understands that constructing attractions is a unique and complex endeavor, often described as an intersection of cutting-edge technology, groundbreaking art, and innovative design. One of the most daunting aspects of constructing attractions is managing the budget while maintaining high-quality standards. Jerry acknowledges that working within a specified budget without compromising on quality can be an incredibly tough task.
Jerry recognizes that construction of attractions can be challenging, with various stakeholders, complex designs, and tight deadlines. To mitigate this chaos, Jerry emphasizes the importance of getting hands-on from the early stages of the project. One of these keys to success is when the contractor is brought on board early by the owner or project team, allowing for better communication, coordination, and alignment of expectations.
Controlled Chaos
"Construction projects are like controlled chaos."
Jerry acknowledges that construction projects, especially in the attractions industry, often face challenges with changes in design, unexpected issues, and potential impacts on timelines, quality, and costs. It is rare for a project to feel like it will be completed on time and on budget during the construction phase.
To effectively combat these challenges, Jerry emphasizes the importance of proper communication channels and a culture of collaboration. Having the right people with the right expertise and mindset around you can make a significant difference in addressing issues head-on, rather than getting stuck in a cycle of problem-solving without finding a solution.
Balancing Quality, Time, and Cost
"When you really want quality, your time gets sacrificed."
The quality, time, and cost triangle is a fundamental concept in the construction industry. For years, contractors and owners have sought to strike the perfect balance among these three elements, but often have to make tough decisions, as achieving all three simultaneously can be borderline impossible.
In recent times, however, the landscape has evolved with additional variables impacting the triangle. Factors such as extended lead times on materials and significant fluctuations in pricing have disrupted the traditional equation of time and cost. Jerry emphasizes that finding the right balance among quality, time, and cost is crucial to delivering a successful project, requiring effective communication with the owner and making educated and fair choices.
To connect with Jerry, you can find him on LinkedIn. To learn more about PeakCM, visit their website here. 
This podcast wouldn't be possible without the incredible work of our amazing team:
Scheduling and correspondence by Kristen Karaliunas
Summary by Mason Nichols
Video editing by Abigail Giganan
To connect with AttractionPros: attractionpros@gmail.com