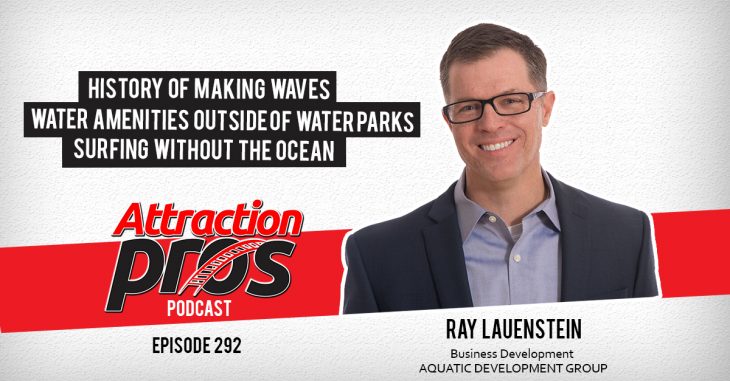 Episode 292 – Ray Lauenstein talks about history of making waves, water amenities outside of water parks, and surfing without the ocean
Podcast: Play in new window | Download
Subscribe: Android | RSS | More
This episode is kindly sponsored by Attractions.io, the guest experience platform behind Merlin Entertainments', San Diego Zoo's, and the PGA Championship's branded mobile apps. Like us, the team at Attractions.io are on a mission to elevate our guest experiences and ensure they exceed the expectations of today's digitally native guests. By combining a branded mobile app with an operator console that consolidates behavioral data from every touchpoint in the guest journey, the Attractions.io platform empowers operators with the tools they need to increase guest satisfaction, spending, and loyalty. To learn more about how Attractions.io can help you connect your end-to-end guest experience, visit Attractions.io/howitworks.
---
Ray Lauenstein is the Director of Business Development at ADG (Aquatic Development Group), a leading North American waterpark design, construction, and manufacturing firm. From a young age, Ray had a passion for water and nature while he was exploring, and this passion continued to follow him through his professional career. After starting in sports leisure and baseball training, Ray found his way to ADG through a friend's recommendation, where he rekindled his love for water. With over a decade of experience at ADG, Ray was recently promoted to Director of Business Development, where he aims to bring the joy of water to people around the world. In this interview, Ray shares insights on the history of making waves, water amenities beyond traditional water parks, and surfing without the ocean.
History of Making Waves
"When you stand still, you fade away."
ADG initially entered the industry as a pool contractor, constructing Olympic-sized pools for clients in the region. However, as the market for traditional pools began to decline, ADG's leadership recognized the need to innovate and set themselves apart. They started drawing inspiration from around the world, and ventured into the market of creative water, which ultimately definesd their identity today.
As ADG continued to grow and innovate, they acquired other companies and continued to find inspiration for their products, which can now be found in water parks worldwide. Today, ADG is a design-build firm and manufacturer, offering a wide range of products and services to help clients take their next big dive in the market.
Water Amenities Outside of Water Parks
"Everyone loves water."
While ADG is well-known for their work in water parks, they have expanded their reach into other sectors as well. They have worked with clients in RV resorts, zoos, aquariums, and other areas where water-based entertainment could add another dimension to the experience. ADG's focus on innovation has allowed them to continue pushing the boundaries of what's possible, and their expertise in creating unique water experiences is highly sought after by their clients.
Water features are a versatile and universal attraction that can enhance any environment, regardless of language or cultural barriers. Whether it's a pool in a sports stadium or an interactive spray pool in an aquarium, these water features can add a dynamic and immersive dimension to any experience. The appeal of water-based entertainment is widespread, and by incorporating these features into new areas, the guest experience can be taken to another level. 
Surfing Without the Ocean 
"Surf is the anchor, and we're layering it with the social piece."
Starting with a small attraction off of I–drive in Orlando, ADG has always been working to create surf technology ahead of its time. Since catching their first wave, ADG has gone through many renditions of their compact surfing simulator, eventually leading them to epic-surf, a surfing simulator that can use a real surfboard with a water depth of 3-5 ft. 
With this innovation, ADG can create new experiences for land-locked guests, and also help inspire the next generation of great surfers. After all, anywhere people can find a wave, they'll ride it. By taking advantage of this growing market ADG hopes to take compact-footprint surfing to the next level. 
To connect with Ray, you can find him on LinkedIn. To learn more about ADG, visit their website here. 
This podcast wouldn't be possible without the incredible work of our amazing team:
Scheduling and correspondence by Kristen Karaliunas
Summary by Mason Nichols
Video editing by Abigail Giganan
To connect with AttractionPros: attractionpros@gmail.com