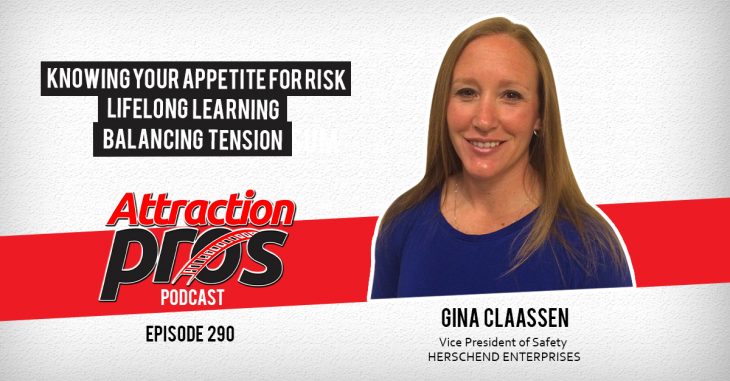 Episode 290: Gina Claassen talks about knowing your appetite for risk, lifelong learning, and balancing tension
Podcast: Play in new window | Download
Subscribe: Android | RSS | More
This episode is kindly sponsored by Attractions.io, the guest experience platform behind Merlin Entertainments', San Diego Zoo's, and the PGA Championship's branded mobile apps. Like us, the team at Attractions.io are on a mission to elevate our guest experiences and ensure they exceed the expectations of today's digitally native guests. By combining a branded mobile app with an operator console that consolidates behavioral data from every touchpoint in the guest journey, the Attractions.io platform empowers operators with the tools they need to increase guest satisfaction, spending, and loyalty. To learn more about how Attractions.io can help you connect your end-to-end guest experience, visit Attractions.io/howitworks.
---
Gina Claassen is the Vice President of Safety at Herschend Enterprises, a family-owned entertainment company focused on bringing safe family fun to people from all over the world. Growing up on a farm, Gina found her passion for attractions in college, when she got a summer job at Silver Dollar City. After gaining more knowledge about the industry, she volunteered as a show ambassador at the IAAPA convention in Orlando, which ultimately led to her joining Herschend Enterprises full time. Throughout her career, Gina has progressed from an attractions supervisor to her current role as Vice President of Safety. She also contributes to the industry by educating at events such as AIMS and IAAPA to help improve industry safety practices and standards. In this interview, Gina talks about knowing your appetite for risk, lifelong learning, and balancing tension.
Knowing Your Appetite for Risk
"If we don't accept any risk, no one would open."
Gina emphasizes that risk is an inherent part of life and must be managed, particularly in an industry where safety is paramount. She recognizes that every second of operation comes with a potential risk, but by creating a robust safety culture and implementing comprehensive training programs, frontline team members can effectively mitigate these risks. By prioritizing safety in all aspects of the business, the chances of accidents or incidents can be significantly reduced, ultimately leading to a safer and more enjoyable experience for guests.
Gina has developed a three-step plan for managing "Risk Appetite," which involves identifying the risks, evaluating the current practices in place, and determining whether they are effective or require changes. To delve deeper into these subjects, it's essential to work collaboratively as a team. These concepts are applicable at every stage of the process, from design and construction to operation. By implementing this approach, the team can continually assess and improve safety practices, ensuring that all potential risks are identified and managed effectively so that Herschend can continue to provide safe, wholesome family fun.
Lifelong Learning
"We're all lifelong learners."
Herschend's GROW U program provides a tremendous benefit to its employees, offering 100% free tuition to more than 11,000 individuals. Gina identifies the driving forces behind this initiative as the company's belief that everyone wants to learn, and their commitment to personal and professional growth.
As an educator herself, Gina recognizes the importance of learning, so she can regularly be found teaching at events such as AIMS and IAAPA. Through her involvement in educating others about safety in the industry, Gina continues to learn and grow as a professional. While she deeply values the opportunity to learn, she has also grown accustomed to being a voice for safety within the industry.
Balancing Tension
"We have to balance the tension to get the results we want."
To be a leader in safety, Gina says the greatest attribute is loving the challenge. When it comes to balancing tension and making tough choices, Gina claims that one of the most important aspects is being in a room full of different viewpoints. By building a team that shares these unique ideas, the tension of the decisions can be balanced in new and unique ways.
Another big aspect of balancing tension is remembering the big picture. By remembering that the end goal is to provide wholesome family fun, the conversation moves from a tense environment to a more fun, open-minded conversation. By implementing these tactics and properly balancing the tension, the results are more than favorable.
To connect with Gina, you can find her on LinkedIn. To learn more about Herschend Enterprises, visit their website here.
This podcast wouldn't be possible without the incredible work of our amazing team:
Scheduling and correspondence by Kristen Karaliunas
Summary by Mason Nichols
Video editing by Abigail Giganan
To connect with AttractionPros: attractionpros@gmail.com