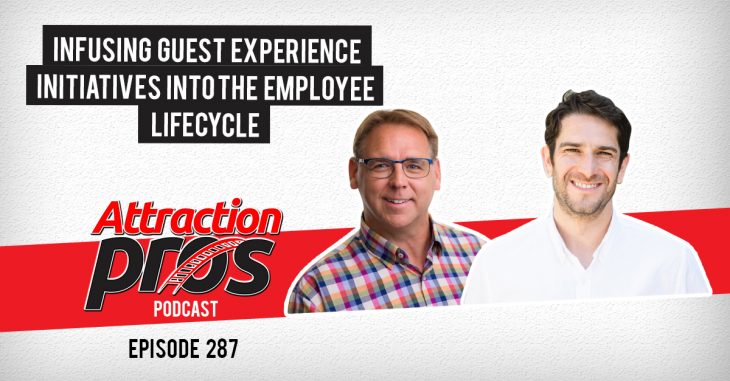 Episode 287: Josh and Matt talk about infusing Guest Experience Initiatives into the Employee Lifecycle
Podcast: Play in new window | Download
Subscribe: Android | RSS | More
This episode is kindly sponsored by Attractions.io, the guest experience platform behind Merlin Entertainments', San Diego Zoo's, and the PGA Championship's branded mobile apps. Like us, the team at Attractions.io are on a mission to elevate our guest experiences and ensure they exceed the expectations of today's digitally native guests. By combining a branded mobile app with an operator console that consolidates behavioral data from every touchpoint in the guest journey, the Attractions.io platform empowers operators with the tools they need to increase guest satisfaction, spending, and loyalty. To learn more about how Attractions.io can help you connect your end-to-end guest experience, visit Attractions.io/howitworks.
---
The guest experience is influenced by many factors, but none are more crucial than our employees. Their interactions with guests can make or break a visit and impact the guests' perception of an experience. To fully immerse our team members in the guest experience, it must be integrated into every aspect of the employee lifecycle, from recruitment to offboarding. By doing so, we can create a sustainable culture of hospitality for both our guests and employees. In this episode, Matt and Josh delve into strategies for infusing guest experience initiatives into the employee lifecycle, to ensure that every touchpoint with our team members enhances the guest experience.
Building your culture of hospitality
Creating a culture of hospitality for your team members is about more than throwing a pizza party. It requires a comprehensive approach that integrates the guest experience into every aspect of the employee lifecycle. With this foundation in place, we can establish a workplace environment that embodies hospitality, enabling our team members to deliver an exceptional experience to our guests. This holistic approach will equip team members to go above and beyond, resulting in an even more memorable and satisfying experience for guests interacting with our employees.
Recruitment
Recruitment is the art of building relationships with potential team members and represents the first touchpoint in the employee lifecycle. By infusing the guest experience mentality into the recruitment process, we can identify strong candidates who possess admirable traits and align with the company culture and mission statement. During the interview, we can define a realistic scenario that the candidate may encounter on the job and outline the parameters they would need to work within. By emphasizing the importance of the guest experience from the outset and finding candidates eager to create those experiences, we can develop employees who are better equipped to deliver exceptional experiences.
Onboarding
Onboarding is the touchpoint in the employee lifecycle where team members gain insight into the inner workings of the company and experience what it's like to work in the facility. Instead of overwhelming employees with information during orientation, we should focus on creating an experience that we would provide to our guests. By instilling a feeling of confidence and the excitement of thinking "I made the right decision," employees develop a stronger connection to the company and are better equipped to deliver exceptional guest experiences. By immersing new team members in the guest experience mentality during onboarding, we can foster this culture of hospitality and set the stage for success.
Training
When we transition into the training touchpoint, it's advantageous to build on the foundation of a team member's previous experiences with the company, such as if they have visited as a guest in the past. By doing so, we can ensure that the guest experience remains infused throughout the entire process, while also helping to develop stronger team members. Effective training not only imparts the necessary knowledge and skills, but also establishes a sense of connection within the company. When these phases are connected and work in harmony, employees can better understand how their work fits into the larger picture, which can foster a sense of purpose and motivation. Additionally, by aligning the training process with the company's values and culture, we can ensure that new team members feel invested in the success of the organization from their first day of on the job training.
Development
To infuse guest experience into development, create a mentality where it's 'cool to care' about the guest experience. When team members feel invested in the success of the experience, they become more motivated and committed to the mission. This can be done by recognizing and amplifying success, as well as providing constructive feedback to address imperfections. By doing so, we can create a culture of continuous improvement and ensure that our team members are always striving to provide the best possible experience for our guests. However, this mentality needs to be instilled from the top-down, and consistency is key. All levels of the organization, from frontline employees to executives, must be committed to the development and training of team members. Without consistency in this regard, the system breaks at its layers, and fails to create a sustainable positive culture.
Offboarding
Offboarding is often overlooked in the employee lifecycle, but it can have a significant impact on the guest experience. When team members leave, they become guests again, and how we treat them can influence their perception of our company. To maintain a positive relationship, we need to think beyond the typical exit interview and develop creative ways to show our appreciation. For instance, offering former employees long-term discounts or occasional tickets can keep them engaged as advocates for our brand. Another strategy is to establish an alumni program, which not only maintains the connection with former team members but also helps address staffing needs.
But here's the catch: none of this will work if we don't treat our employees well and create a sustainable positive culture. By building a strong foundation throughout the employee lifecycle, we can create a workforce that is invested in our mission and committed to delivering exceptional guest experiences, even after they move on.
This podcast wouldn't be possible without the incredible work of our amazing team:
Scheduling and correspondence by Kristen Karaliunas
Summary by Mason Nichols
Video editing by Abigail Giganan
To connect with AttractionPros: attractionpros@gmail.com