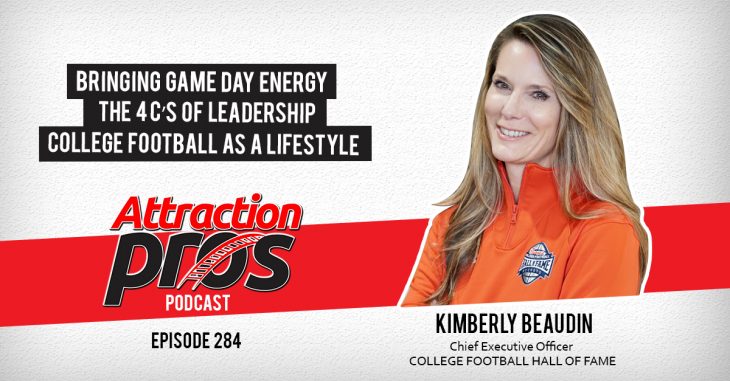 Episode 284: Kimberly Beaudin talks about bringing game day energy, the 4 C's of leadership, and college football as a lifestyle
Podcast: Play in new window | Download
Subscribe: Android | RSS | More
This episode is kindly sponsored by Attractions.io, the guest experience platform behind Merlin Entertainments', San Diego Zoo's, and the PGA Championship's branded mobile apps.
Like us, the team at Attractions.io are on a mission to elevate our guest experiences and ensure they exceed the expectations of today's digitally native guests. By combining a branded mobile app with an operator console that consolidates behavioral data from every touchpoint in the guest journey, the Attractions.io platform empowers operators with the tools they need to increase guest satisfaction, spending, and loyalty.
To learn more about how Attractions.io can help you connect your end-to-end guest experience, visit Attractions.io/howitworks.
---
Kimberly Beaudin is the Chief Executive Officer at the College Football Hall of Fame. Located in Atlanta, GA, the interactive experience and hall of fame immortalizes players of college football dating back to 1951. Kimberly began her career at Disney, where she developed a love for attractions and hospitality. After several years of marketing experience, Kimberly joined the College Football Hall of Fame, and was promoted to CEO in early 2020. In this interview, Kimberly talks about bringing game day energy, the 4 C's of leadership, and college football as a lifestyle. 
Bringing Game Day Energy
"We're here to deliver a wonderful experience to our guests… and we should enjoy doing it."
Kimberly knows that the best way to engage their guests is to have staff energy spill into the guest experience. From the moment guests walk into the main entrance, Kimberly wants them to be completely immersed in game day energy and all the amazing feelings that come with college football.
Fan Ambassadors are essential in creating the game day energy. By building a team that interacts with the guests in a personal and exciting manner, it compliments the already interactive experience and helps build the emotions that fight songs and rivalries bring every game day. Kimberly has built this living, breathing experience to go beyond the 3 story helmet wall and into the hearts of their guests. 
The 4 C's of Leadership
"I believe that leaders need to lead with confidence, courage, conviction, and compassion."
Kimberly's leadership philosophy is to work hard and play hard. To accomplish this, she uses the 4 C's of leadership she's developed throughout her career: confidence, courage, conviction, and compassion.
Confidence means 'knowing your stuff' and not being afraid to share your ideas. Courage is the ability to keep moving forward and not being timid when it comes time to make a decision. Conviction is having the ability to make those tough decisions and put your foot down when it's needed. Finally, compassion is treating people the way they want to be treated.
The 4 C's all play into each other, and although words like conviction and compassion may seem contradictory, they actually feed off of their connection and help develop great leadership practice. By developing one of the C's, you actually develop all of them, as every word is connected. 
College Football as a Lifestyle
"The drive to succeed in team sports is a direct parallel to business."
College football is one of the most popular sports in America. For many, watching their alma mater on the field can pull at their heartstrings and get them much more invested in the game since they're representing something close to their heart. Additionally, generational fandom and rivalries are even more big factors that get people invested in the world of college sports.
Kimberly knows that these ideas behind college football also apply to many other things. Passion is a huge aspect in life, whether it be with hobbies or in the workplace. Additionally, this passion creates bonds that unites groups together, both large and small. Overall, implementing the ideology of college football into the workplace or anywhere else can create a great environment for all the people involved. 
To connect with Kimberly, you can connect with her on LinkedIn. To learn more about the College Football Hall of Fame, click here.
This podcast wouldn't be possible without the incredible work of our amazing team:
Scheduling and correspondence by Kristen Karaliunas
Summary by Mason Nichols
Video editing by Abigail Giganan
To connect with AttractionPros: attractionpros@gmail.com