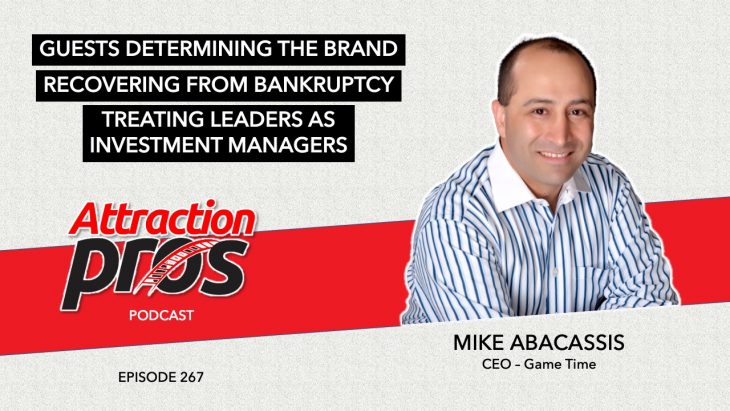 Episode 267 – Mike Abacassis talks about guests determining the brand, recovering from bankruptcy and treating leaders like investment managers
Mike Abecassis is the CEO of GameTime, a group of family entertainment centers in Florida. Since 2010, Mike has led Gametime through many trials and tribulations, often building back better and consistently leading his team to newfound levels of success. Mike guided GameTime through the vast unique impacts the pandemic had on the entertainment industry, and also played a major role in the recovery from a Chapter 11 bankruptcy. In this interview, Mike shares his experiences about guests determining the brand, recovering from bankruptcy, and treating leaders as investment managers.
Guests Determining the Brand
"We try to create our brand, but the truth is our guests determine what our brand is."
Many organizations attempt to create their own unique and individual brand, and while this may be executed well, the guests always determine what a brand truly is, even if that doesn't match your definition. While it may be a challenge, listening to your guests and creating the brand that they think you is incredibly beneficial to your business.
When building an extension of an established brand from the ground up, it's important to maintain a great guest experience by strongly incorporating what the brand truly is through the eyes of the guest. By making yourself what they think you are, you reduce confusion and create a positive, smooth experience for guests of all types.
Recovering from Bankruptcy
"Organizations do their worst at their best times and their best at their worst times."
For many years, Mike conducted annual excercises that simulated what would happen if his copmany had to file for bankruptcy. This internal audit resulted in a full scrutiny of the company's books to determine if any holes were present that could put the company in jeopardy if he ever needed to seek bankruptcy protection. As a result, when the time came, GameTime successfully exited Chapter 11 in just over six months.
When it comes to leading a team through a bankruptcy situation, one of the biggest takeaways that Mike shared was the importance of communicating the details with his team before the information is publicly available. This allowed for GameTime leadership to fully understand the implications of the circumstance without learning about from a third party.
Treating Leaders as Investment Managers
"We need to invest in our teams on a regular basis."
In the eyes of a leader, your team members are an investment that you manage every week. It's crucial to monitor where your money is going and having strong investments that have good returns.
By looking at it in this lens, you can see which investments need to be coached, where you should invest more, and what investments should you bring in. Maintaining a strong portfolio will allow for success to reach all sectors of the business spanning from the guest experience to staffing.
To connect with Mike, you can find him on LinkedIn. To learn more about GameTime, you can visit their website here.
This podcast wouldn't be possible without the incredible work of our amazing team:
Scheduling and correspondence by Kristen Karaliunas
Summary by Mason Nichols
To connect with AttractionPros: attractionpros@apwebteam
---
For audio only, click here:
Podcast: Play in new window | Download