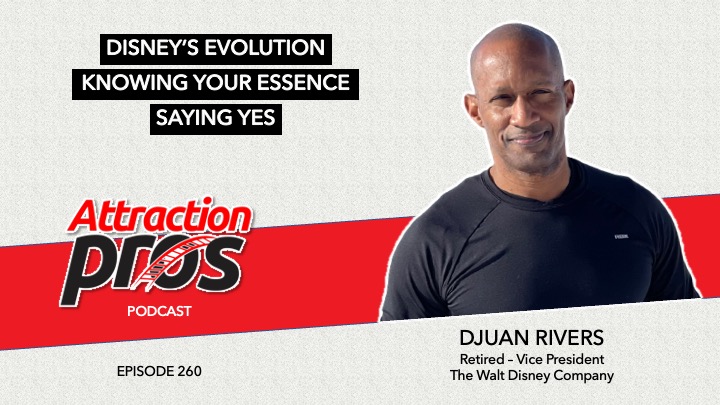 Episode 260 – Djuan Rivers talks about Disney's evolution, knowing your essence, and saying yes
Djuan Rivers is the former Vice President of Disney's Animal Kingdom with over 30 years of experience with The Walt Disney Company. After getting his degree in chemistry and economics from Emory University, Djuan stumbled into Disney's hotel operations branch where he kicked off the beginning of his unique career. After opening six hotels in Florida and three in Paris, Djuan quickly began to explore countless opportunities on the executive front, from Hawaii to Paris and all the way back to Animal Kingdom. In this interview, Djuan discusses Disney's evolution, knowing your essence, and the power of saying yes.
Disney's Evolution
"It's about entertainment, creativity, and the guest experience."
Considered the 'golden standard' of themed experiences and guest interaction, Disney has evolved the industry while continuing to evolve itself. From areas like leadership structure to breakthrough ideas within the experience economy, Disney has cemented its legacy and has changed the attractions world as we know it. 
With such a diverse set of experiences and properties, Disney presents many opportunities for their leadership team to learn from their past experiences. Hotels relate to theme parks, and theme parks relate to cruise lines. Disney evolved to break boundaries between departments and open the world of communication to help excel the development of the guest experience and make their experiences even more enjoyable. 
Knowing Your Essence
"You have to know the essence of who you want to be."
Having a sense of identity is one of the most powerful tools in the attractions industry. Companies need to know their purpose and have that strong sense of essence in order to succeed in a competitive world. To strive, companies need to determine what their essence is, who their audience is, and what they want to accomplish.
So many experiences can be bought off the shelf and created in a matter of weeks, but what makes the true difference is the employee to guest interaction that the essence of your company will create. Not only does your company's essence create a message, but it also creates a better guest and employee experience when executed correctly.
Saying Yes
"I'm always looking for the next cool opportunity."
Saying yes is the greatest way to generate opportunity and take you to new places. By saying yes, not only are you taking yourself on an exciting new adventure, you're also creating bonds, gaining experience, and developing yourself further as a person. Whether it's walking on the wings of an airplane or running an arctic marathon, every time you say 'yes', a new opportunity presents itself.
People appreciate other people who aren't afraid to explore and are in the consistent pursuit of the next great opportunity. If somebody simply asks you if you're free and would like to try something, saying 'yes' generates respect and creates an unforgettable experience that can lead you places you never thought possible. 
To learn more about Djuan, you can find him on Instagram and Facebook.
This podcast wouldn't be possible without the incredible work of our amazing team:
Scheduling and correspondence by Kristen Karaliunas
Branding and design by Fabiana Fonseca
Summary by Mason Nichols
To connect with AttractionPros: attractionpros@gmail.com
---
For audio only, click here:
Podcast: Play in new window | Download