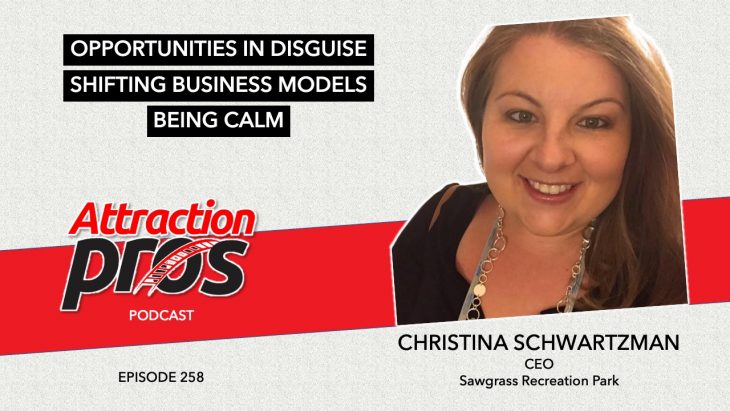 Episode 258 – Christina Schwartzman talks about opportunities in disguise, shifting business models and being calm
Chrissy Soverns Schwartzman is the Chief Executive Officer at Sawgrass Recreation Park, a family retreat in South Florida with airboats, sanctuaries, and even more within the Florida Everglades. After her father bought the property from friends ready to retire from the airboat business, Chrissy and her family built their vision, now employing 49 staff members with 10 of them being related. After countless pivots and challenges, Chrissy has gained a natural sense of leadership and plenty of experience within the challenges of the industry. In this episode, Chrissy talks about opportunities in disguise, shifting business models, and being calm.
Opportunities in Disguise
"I'm a born optimist. We've got to see the sunlight somewhere."
Opportunities are everywhere; you just have to know where to look for them. Throughout the life of Sawgrass Recreation Park, major roadblocks have presented themselves, but after working through the problems, they wound up becoming blessings. These simple gifts present themselves with a tough shell, but once breaking through that barrier, it's easy to find opportunity in negative situations.
It's important to try and see as much as possible in a positive light, as every negative experience can be turned into a great one by pushing through the issues and solving the problem in a calm, collected manner without making emotional, heat of the moment decisions.
Shifting Business Models
"We have COVID to thank for reintroducing people to the outdoors."
We live in a world where change is the only constant. Sawgrass Recreation Park is no stranger to change either. No matter the challenge, whether a pandemic or hurricane, the park's management has found ways to 'make it work,' whether that be increasing/decreasing capacity or adding/cutting attractions.
Making and executing changes to business models is not only key to keeping your business afloat, but also keeping your employees and guests happy. If a park is too crowded on the busy days, there needs to be a way to cut it down while maintaining that revenue. This problem solving ideology is prevalent throughout the industry, and being calm and flexible is key to that success.
Being Calm
"Mental health is the forefront of concerns for our staff."
Being calm is an important aspect in business. Whether it be decisions in the meeting room or something going wrong with a control panel on a boat, it's important to stay relaxed and not throw your hands up.
In any industry, being calm is the key to success. By being calm, you maintain a clear vision and refrain from making emotional decisions, which can lead to repetitive damage further down the road of a company. It's important to not overreact and never exaggerate the impact of a situation.
To learn more about Sawgrass Recreation Park, you can visit their website. To contact Chrissy directly, you can connect with her on LinkedIn.
This podcast wouldn't be possible without the incredible work of our amazing team:
Scheduling and correspondence by Kristen Karaliunas
Branding and design by Fabiana Fonseca
Summary by Mason Nichols
To connect with AttractionPros: attractionpros@gmail.com
---
For audio only, click here:
Podcast: Play in new window | Download