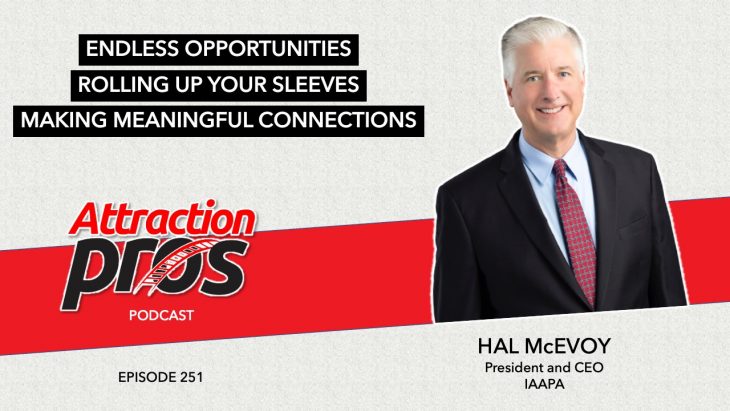 Episode 251 – Hal McEvoy talks about endless opportunities, rolling up your sleeves and making meaningful connections
Hal McEvoy is the President & CEO of IAAPA (International Association of Amusement Parks and Attractions), the leading association for the global attractions industry for 104 years. After getting a taste of the industry as an operations Cast Member at Walt Disney World in 1972, Hal joined Busch Gardens Tampa as an accounting clerk in 1975, kicking off his career in finance and accounting, as well as his passion for the industry. After spending more than 38 years with SeaWorld Parks & Entertainment, Hal initially became involved with IAAPA in 2005, and later became CFO of IAAPA in 2017 and swiftly became President & CEO 10 months later. In this interview, Hal talks about endless opportunities, the importance of rolling up your sleeves, and making meaningful connections.
Endless Opportunities
"The association, to me, is like a 104 year old infant."
In an industry centered around ambition and innovation, doors are constantly opening. Technology spreads like wildfire, and guests from around the world travel even further to experience things that were only ideas years ago. Given this world where change is the only constant, IAAPA has embraced the endless opportunities of the industry.
In an international association, there's opportunities to see the industry thrive in certain locations as well as help other locations recover from the impact of the pandemic. Endless opportunities also means endless challenges, and every day presents a chance to help solve these challenges to help improve the future of the attractions industry.
Rolling Up Your Sleeves
"I'm the type of person who likes to roll up his sleeves and know what's going on."
It's important to know what's going on. Rolling up your sleeves and getting your hands dirty not only improves your daily operation, but it also gives you a chance to see all the turning gears of a company and how everything fits together in a constantly changing puzzle.
In a worldwide association like IAAPA, there are so many aspects of the operation that it takes over 25 directors to help manage the operation. By getting your hands dirty, you can find all the pieces and how they fit together, solving problems at the source and making you a more valuable asset.
Making Meaningful Connections
"Having fun and making memories is what this industry is all about."
In an industry where so many people are involved and passionate about what they do, meaningful connections are one of the most important and fun aspects of the attractions industry. Making memories and making friends is the most enjoyable part of life, and it's one of the core aspects of IAAPA.
When walking across the IAAPA trade floor, it often takes much longer than anticipated sheerly due to the amount of meaningful connections that are made and maintained throughout the industry. In an environment where it's so easy to connect, it takes a short time to have memories with nearly everyone you see at the conference. It's often mentioned that one of the greatest things about this industry is the people, and IAAPA tries to embody that ideology beyond the trade floor.
To learn more about IAAPA, visit their website. To connect with IAAPA, email any of the team members found in their directory.
This podcast wouldn't be possible without the incredible work of our amazing team:
Scheduling and correspondence by Kristen Karaliunas
Branding and design by Fabiana Fonseca
Summary by Mason Nichols
To connect with AttractionPros: attractionpros@gmail.com
---
For audio only, click here:
Podcast: Play in new window | Download