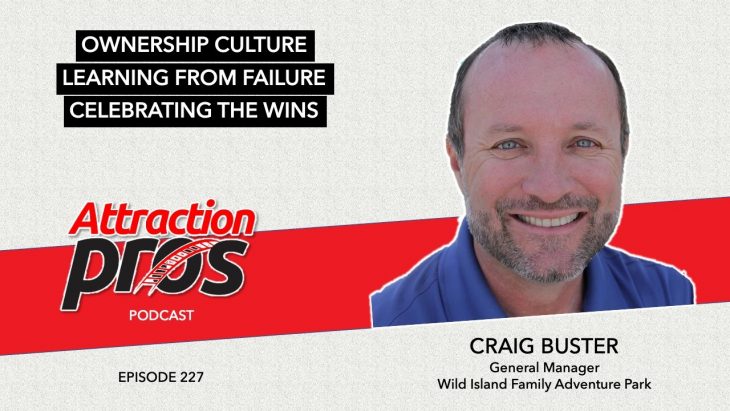 Episode 227: Craig Buster talks about ownership culture, learning from failure, celebrating the wins
Craig Buster is GM of Wild Island in Sparks, NV.  Craig started as a go kart attendant and quickly realized that he had something unique to offer. Three decades later he is the GM who works at building a great culture and an amazing facility that both his employees and guests can be proud of.  In this interview, Craig discusses ownership culture, learning from failure, and celebrating the wins.
Ownership Culture
"I love to develop people. I probably fail more than I succeed ."
Craig talks a lot about culture and how it not only starts at the top, but that it is driven by what's in the heart. Talk to people as human beings and provide them them the tools and guidance they need to be successful.
Being part of the decision-making process is what helps build the culture of ownership according to Craig. He allows his team to give input and debate the pros and cons of the facility's next move. They then get to see how their decisions play out as they are implemented. Craig admits sometimes the suggestions work out, sometimes they don't, but in every instance, the team learns. 
Learning from failure
"When opening a restaurant, that first night you've got to nail and if you don't, you're done."
The ownership at Wild Island allows Craig and his team to make and own many of the decisions that drive the park forward. When asked about his favorite failures, he points to a few decisions that cost the company significant money, but also taught them some valuable lessons.
As they looked to expand, they thought that adding a high-end restaurant would be a great addition to their offerings. Ultimately that failed for many reasons, but the lesson that came out of it was to more closely appeal to your demographic, do what you know and listen to your community for what they want. The restaurant space eventually turned into black-light mini golf and is still a popular attraction to this day. 
Celebrating the wins
"You've got to celebrate those wins…you need to stand up and clap, jump up on a table, whatever you need to do."
Craig reveals that previously the team wasn't very good at celebrating wins. They would have a record week, check it off, then move on to the next week. They decided to be a little less humble about their accomplishments and start applying for some industry awards and celebrating the day-to-day wins with their teams.
In 2019, Wild Island earned AAMA's Top FEC Award and have been finalists for IAAPA's Top FEC of the World Award. Craig acknowledges that it's a tough industry but it can be very rewarding. "We're creating experiences, and if that doesn't get you excited, it might be time to find another industry."
To learn more about Wild Island, visit: https://wildisland.com/
To contact Craig: CBuster@wildisland.com
The annual IAAPA FEC Summit is back!  After a 2-year hiatus, IAAPA is bringing FEC owners and operators together in Scottsdale for 2 full days of shared experience, new learning, networking and more.  Scottsdale is the perfect location for this year's event.  Attendees will experience first-hand several area attractions including the Arizona Boardwalk, OdySeaAquarium, Bam Kazam, Mavrix and Octane Raceway.
This year's theme is "Designing the Future and Maximizing Growth."  Core topics will include retailtainment in FEC's, leadership, pop up exhibit experiences, brand loyalty and more.  The Keynote speaker, Kaihan Krippendorff, (pronounced – K-eye-ann Krip-en-dorf) – will inspire and challenge attendees to think in new ways.  His presentation "Be the Disruptor, Not the Disrupted" is timely and important and FECs – and just about all businesses continue to manage through the change and disruption brought upon by COVID-19.  IAAPA's president and CEO, Hal McEvoy; Chairman of the Board Ken Whiting; and 1st Vice Chairman Jim Pattison Jr. will also be taking part, along with members of the IAAPA North America team to ensure everyone has the engaging, informative and memorable experience IAAPA events are known for.
It's NOT too late to register and be a part of the IAAPA FEC Summit experience.  We have a special code to save $200 on registration. IAAPA members can register at www.iaapa.org/fecsummit and enter code 22FECSMT14 by January 14.
OH – and if you have ANY doubts or concerns and want to mention the health and safety protocols we are taking during this in-person event – here are a few key things:
The health and safety of IAAPA's attendees is the number-one priority during IAAPA FEC Summit and a great deal of planning and consideration has gone in to ensuring a safe AND successful event.
During the IAAPA FEC Summit, IAAPA will follow all guidelines regarding social distancing, mask-wearing, cleaning and disinfection, and other protocols set by the We-Ko-Pa resort, all host locations, the local government, and the latest CDC guidance and recommendations for meetings and large groups. 
Attendees are encouraged to bring their own masks – by now we probably all have a favorite style for comfort – and IAAPA will provide masks while ensuring sanitizing stations are readily available
This podcast wouldn't be possible without the incredible work of our amazing team:
Audio and video editing by Abigail Giganan
Scheduling and correspondence by Kristen Karaliunas
Social media marketing by Kate Kujawa
Branding and design by Fabiana Fonseca
Email marketing by Sam Bercik
To connect with AttractionPros: attractionpros@gmail.com.
---
For audio only, click here:
Podcast: Play in new window | Download