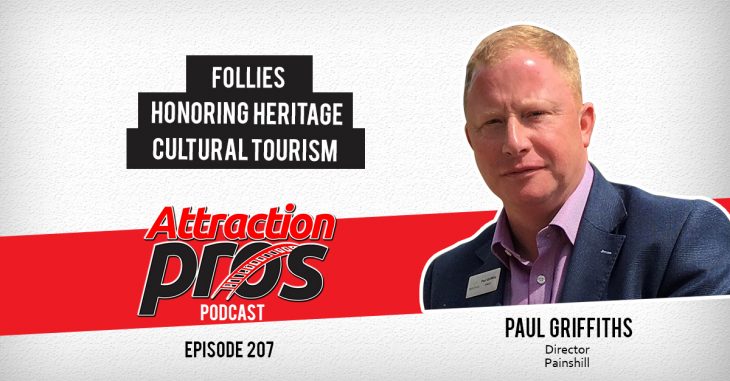 Episode 207 – Paul Griffiths talks about follies, honoring heritage and cultural tourism
Paul Griffiths is the Director of Painshill Park, an 18th century landscaped garden just south of London. Paul also has an honorary doctorate in Heritage, Conservation, and Tourism from Solent University. Painshill Park is a protected cultural heritage site within the United Kingdom that features beautiful walking paths, scenic natural landscapes, and a variety of follies. (A folly is a small building with no specific purpose found within a park or estate that provides visual interest.) Painshill allows its guests to explore and reconnect with nature while also allowing guests to focus on their physical and mental wellbeing.
Paul has worked the past 25 years in the tourism industry. When he first went to college, he planned to major in the business aspects of the sports industry. However, during the summer after his first year, Paul worked for a month at Hever Castle, the childhood home of Queen Anne Boleyn. There, he learned the value of working at a beautiful historical site and fell in love with that aspect of the tourism industry. Upon returning to college, Paul went on to earn a degree in heritage management. Right after graduating, he began working in the English Heritage office and began working his way up, eventually becoming the area manager for 12 London Historic Properties. His time with English Heritage also allowed Paul the opportunity to open a new museum and create business strategies for it. These learnings would come in handy when Paul decided to try something new and start working at the Painshill Park in 2018.
Painshill Park was established in the 18th century by Charles Hamilton. At the time, many people would take months-long tours around Europe, learning about different places and their cultures. Most people brought home many items from their journey, but Hamilton brought home his memories and inspiration. He was particularly inspired by architecture and nature. This was why he created the landscaped gardens of Painshill Park. The various follies around the grounds were inspired by some of his favorite architectural finds: a ruin, a Turkish tent, various bridges, and even a grotto with a waterfall. The park changed hands numerous times throughout the years, and during World War II, the park fell into disrepair. It wasn't until a charitable trust was established for the park in the 1980s that restoration began to bring the park back to its former glory.
When Paul began working at Painshill three years ago, it wasn't very well-known, even with locals. That made spreading the word about the park a top priority. One issue was that Painshill didn't have a strong tagline to describe what it truly was. Paul worked with a consultant to create their new slogan: "Where the walk is a work of art." In addition, Paul has worked at bringing in more guests by offering a variety of limited-time events. They've had music, theater, and comedy events in the park after normal admission hours. Paul has also invited local businesses to create installations of zoo animals and fantasy creatures that guests can find throughout the gardens. Additionally, Paul and his team focus on providing exceptional guest service so that visitors will take stories home with them and share their experiences with others. Word-of-mouth advertising is very powerful. All of these efforts have led to an annual increase in guests from 75,000 to 200,000 in the span of several years.
Paul shared some of the many benefits of visiting a location like Painshill Park. One is the ability to disconnect from our busy, electronics-filled lives and just enjoy nature. Along those same lines is the escapism that visiting Painshill provides, especially during the challenging times of the pandemic. As an outdoor, spread-out attraction, Painshill has been open for the majority of the pandemic, providing a place for locals to escape from their daily stress. In addition, Painshill is a wonderful place to focus on personal well-being, both physical and mental. Its circular walking trail is visited by some guests daily. The park has also become a hub for educational experiences. Students will come visit the park and spend time learning about and interacting with nature.
Painshill Park is an attraction, though it is different from most of the types of attractions that are regularly discussed on the AttractionPros podcast. That being said, Paul said that he loves to learn from other segments of the attractions industry and apply what makes sense to Painshill. One common thread for all types of attractions is the desire to provide excellent guest service and a memorable, enjoyable experience.
If you'd like to learn more about Painshill Park, you can check out their website. If you'd like to get in touch with Paul, you can find him on Twitter or LinkedIn.
This podcast wouldn't be possible without the incredible work of our amazing team:
Audio and video editing by Abigail Giganan
Complete episode summary by Paige Reiter
Scheduling and correspondence by Kristen Karaliunas
Social media marketing by Kate Kujawa
Branding and design by Fabiana Fonseca
Email marketing by Sam Bercik
To connect with AttractionPros: attractionpros@gmail.com
---
For audio only, click here:
Podcast: Play in new window | Download