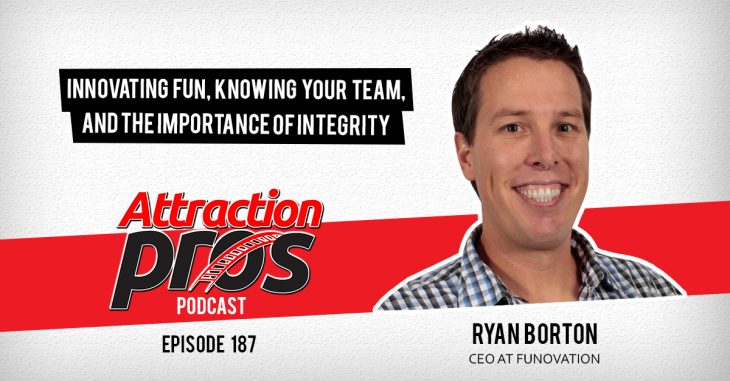 Episode 187: Ryan Borton talks about innovating fun, knowing your team, and the importance of integrity
Ryan Borton is the CEO of Funovation, best known for its custom laser mazes and other small footprint attractions for family entertainment centers (FECs).  Since its founding in 2007, Funovation has installed over 400 attractions in 33 countries, and each installation is unique.  In this interview, Ryan talks about innovating fun, "beamers," and the importance of booster attractions.
Ryan had a unique route into the attractions industry.  He started in the subprime mortgage space.  From there, he transitioned into various roles focusing on sales and opportunity identification.  All of these roles helped Ryan be a successful business leader when he joined Funovation and soon became its CEO.  When asked what lessons from the subprime mortgage industry he's continued to utilize throughout his career, Ryan discussed the importance of integrity.  In the mortgage industry, he would sometimes see clients approved for home loans that they potentially shouldn't be approved for and made the personal commitment to instead choose to do what he thought was morally correct.  This same philosophy is integral to his role as the CEO.
When asked about the difference between sales leadership and other types of leadership, Ryan shared that, to him, they have many similarities.  One of the key aspects of his leadership style was learned from being a fan of UCLA Basketball and their coach, John Wooden.  Coach Wooden understood that each member of the team was unique and thus needed to be utilized in an appropriate way.  Similarly, Ryan takes the time to learn about his employees, their motivations, and their individual skill sets in order to know how to uniquely manage each of them.  He also stressed the importance of empowering employees and giving them a certain level of autonomy.  He does this by asking all of his employees to make decisions with the mindset that Funovation is their own business.  Ryan also mentioned that this autonomy allowed employees to learn from mistakes but also have an opportunity to try new things and discover better ways of doing things than what had been done in the past.
Funovation's guiding mission is to "remind the world to play."  They've been accomplishing this amazing objective by creating unique attractions that utilize both brain and brawn to encourage problem-solving and play.  Funovation creates booster attractions for FECs, which are high-value, small footprint experiences that offer an alternative opportunity for play outside of a complex's core offering.  When "innovating fun" and coming up with new, exciting product offerings, Funovation is careful to make sure that the new ideas are consistent with its corporate values and goals.  Another exciting aspect of these offerings is that no two of these attractions are the same.  When a client asks Funovation for assistance designing a new attraction, such as one of their signature laser mazes, they provide the available footprint of the space.  Then Funovation uses faux walls to recreate the space in their facility.  Then, a "beamer" comes into this space and uses string to mock-up where all of the lasers will go.  These unique footprints and custom laser layouts are what make each Funovation laser maze unique.  Another aspect that makes each attraction different is the unique relationship between Funovation and the attraction's client.  Understanding each FECs' individual needs and goals helps Funovation tailor their attractions to best suit their needs.
Ryan discussed the power of getting to experience an attraction when making a sale.  Josh fondly remembers enjoying his yearly visit to the Funovation booth at the IAAPA Expo.  He even has score stickers from the attractions on each of his old International Association of Amusement Parks and Attractions (IAAPA) badges.  Being able to see and experience something personally is an excellent way to help people understand how an attraction could best work for them in their facility.  Unfortunately, the Covid-19 pandemic prevented all of us AttractionPros from gathering in Orlando for the 2020 IAAPA Expo, but hopefully the opportunity to try out Funovation's experiences can happen safely later this year.
Though the pandemic forced Funovation, like many other themed entertainment companies, to make very hard decisions, the focus on customer service and taking care of the attraction operators was not lost.  By continuing to provide guidance to their clients and taking measures such as suspending warranty payments, Funovation demonstrated their commitment to helping FECs and the attractions industry bounce back as quickly as possible.  Ryan highlighted the value of FECs as an escape from the challenges of this pandemic and knows that these facilities have the ability to put a smile on people's faces, under their masks, of course.   Ryan is incredibly proud of how his team has rallied throughout this challenging time to do what is best for the business.
One silver lining that came out of the pandemic is that Funovation had time to collaborate and develop their technologies for uses in other industries.  Additionally, a greater emphasis on the team taking care of each other and helping each other out evolved out of necessity due to the furloughs driven by the pandemic.  As the team grows back to its former size and the industry continues to rebound, this greater sense of comradery is something Ryan knows will stay.  
If you'd like to learn more about Funovation and its attraction offerings, please visit funovation.com.  Additionally, you can contact Ryan directly at ryan.borton@funovation.com.
To connect with AttractionPros: attractionpros@gmail.com
#weareallattractionpros
---
For audio only, click here:
Podcast: Play in new window | Download