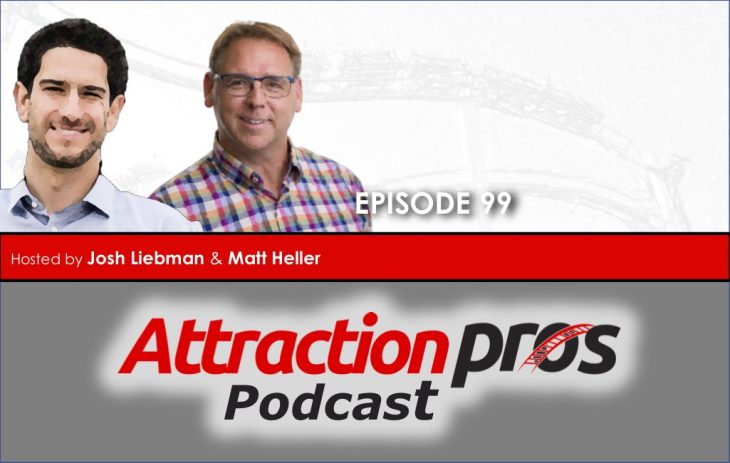 AP Podcast – Episode 99: Matt shares the 5 major lessons learned from his epic California coaster adventure
Each year, Matt and two friends meet-up for Coaster Nerd Con (CNC), their own little convention for nerdy coaster riding. This year, the trio headed west to California. The parks and attractions they visited were: Pacific Park on the Santa Monica Pier, Knott's Berry Farm, Warner Bros. Studio Tour, Universal Studios Hollywood, Six Flags Magic Mountain, California's Great America, Six Flags Discovery Kingdom and Santa Cruz Beach Boardwalk.
In this episode, Matt reveals which park had the best guest service, as well as his favorite coaster of the trip. He also shares 5 major lessons that he took away from this experience. They are:
It all starts with your attitude and a quote from Henry Ford, "Whether you think you can or you think you can't, you're right."
The waiting experience at your attraction could be having a bigger impact in the overall guest experience than you think.
It's not enough for us to be employers, we must also be educators.
Parks who started off as twins had very different journeys.
It's probably time to re-think incentive programs and replace them with "inspiration programs."
Have a question for the mailbag or know of a guest we should feature? Drop us a line!
Josh – josh@backlooper.com
Matt – matt@performanceoptimist.com
This episode is brought to you by FunRating. If you work in any area of the attractions industry, you're probably curious how guests at your attraction perceive critical areas of guest experience. Which facility type provided the best service in 2018? Who really needs to improve their food service? And which attraction saw the highest increase in likelihood to return? These questions, and more, can all be found in the FunRating Report, and this is information that only Amusement Advantage can provide. The FunRating Report can be found at funrating.com, and we have an exclusive offering for AttractionPros listeners. To save 10% off of the one-time purchase of $375, tune into the podcast!
Podcast: Play in new window | Download