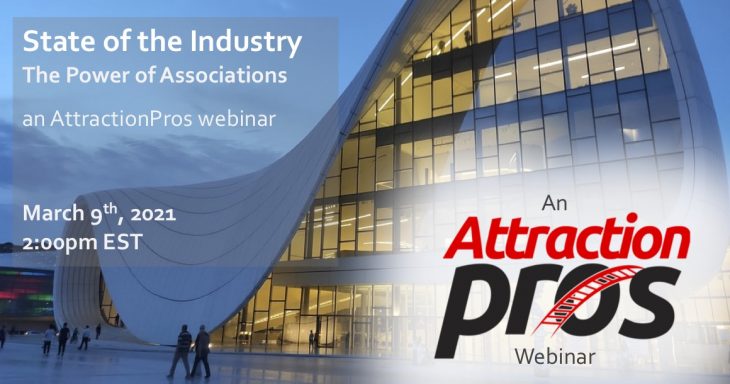 State of the Industry: The Power of Associations
Date: March 9th, 2021
Time: 2:00 PM EST
In this AttractionPros webinar, a panel of leaders from multiple industry associations will discuss the overall state of the attractions industry, outlook for 2021, and resources that operators and suppliers alike can utilize for their advantage. To expedite the recovery timeline, the need to work together is still a top priority, and your associations are here to help.
By attending, you can expect to learn how are associations are addressing the following topics:
-Government relations/industry advocacy
-Resources available for members to see the best success in 2021
-Future of industry events
-General outlook on the industry
-Projected recovery timeline
-Promoting social initiatives
Webinar panelists include:
-John Hallenbeck – IAAPA (International Association of Amusement Parks and Attractions)
-Bethany Evans – IATP (International Association of Trampoline Parks)
-Ed Hodgdon – NEAAPA (New England Association of Amusement Parks and Attractions)
-Matt Johnson – FAA (Florida Attractions Association)
-Rick Root – WWA (World Waterpark Association)
Check back often as more speakers are added to the panel.